Referring Students to the Career Planning and Development Center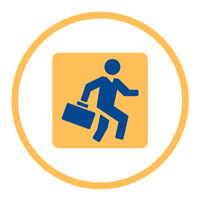 The mission of the Career Planning & Development Center (CPDC) at Webster University is to assist students with exploring and defining their personal career goals while developing the skills and confidence necessary to succeed.
The CPDC works with undergraduate and graduate students, in addition to alumni through one year after completion of their degrees, to help with career goal setting and planning.
"Our team engages with students in a variety of career development areas, including job and internship search strategies, customizing application materials, networking strategies, and graduate school decision making," says John Link, director of the CPDC.
Link adds: "Students may initially come into our office for a review of their resume but may leave with strategies for a focused job search, navigating a career change, and tools for exploring careers in their major. It is important for our career development team to gather information from our students to help them execute actions autonomously. Students can meet as regularly with their designated career advisor as needed.
Career Readiness Skills
The CPDC partners with faculty to provide opportunities for all students to learn and develop career ready skills that employers emphasize as essential to post-graduate success. Over the next year, the CPDC will incorporate career readiness skills into their programming and events to assist students identify what employers view as an important component to their professional development.
"Our career development team has worked hard this past spring and summer to develop an action plan for incorporating career readiness skills into the programs and individual services we offer our students," Link says.
"To gain a competitive advantage in the hiring process, students need to demonstrate and articulate their career readiness skills to their intended audience. These skills include critical thinking, oral and written communication, career management, and intercultural fluency. Webster University already does a remarkable job through its Global Citizenship Program to emphasize these areas of skill. The CPDC team will assist students magnify these skills through experiential learning that can help with the creation of strong application materials and prepare students for future interviews."
Referrals
Faculty and staff can refer students to the Career Planning & Development Center through Starfish as an initial connection to the Center.