Career Planning and Development Center Offers Workshops for International Students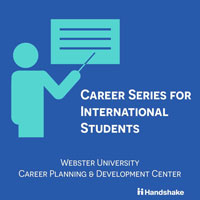 The Career Planning and Development Center (CPDC), in partnership with International Recruitment and Services, is offering multiple opportunities for international students across Webster University's network.
These workshops will teach international students about Curricular Practical Training and Optional Practical Training eligibility and procedures. These programs allow international students with an F-1 visa in the United States to work up to 12 months in relation to their major of study.
Students can register for these workshops through Handshake to participate in-person at the Webster Groves campus or online through WebEx.
Students are required to fill out an RSVP registration form in order to participate in WebEx sessions.
Workshops For International Students
Each session will be held from 1-3 p.m. in the Emerson Library Conference Room.
Curricular Practical Training (CPT) Guidelines
Optional Practical Training (OPT) Guidelines
Thursday, Oct. 3

Wednesday, Oct. 9
For questions about these events email John Link, director, Career Planning and Development Center, at careercn@webster.edu.