Handshake: Helping Students Manage Career Opportunities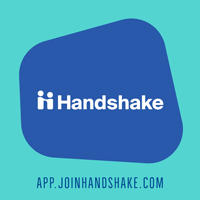 Handshake, Webster University's online career management and recruiting platform, is an exclusive portal for students to make connections with employers who post jobs and internships through the system, in addition to managing other aspects of their internship or job search process.
"The technology that our students have access to is remarkable," says John Link, director of Webster's Career Planning & Development Center. "Handshake is the premiere career management platform utilized by thousands of employers and students from around the world. Key features of the platform include a database of on-campus jobs at the Webster Groves campus, recommended jobs, internships, and events that are aligned to the academic interests of the student, and the ability for students to schedule career advising appointments."
Handshake is now in its second year at Webster University and has been utilized by hundreds of students to identify employment opportunities, connect with recruiters, and register for programs, events, and career fairs.
Upon enrolling at Webster University and registering for classes, student information is uploaded into Handshake. Students will receive an automated welcome e-mail to the platform, introducing them Handshake's tools and resources.
The best part of this system, according to Link, is that students can get started immediately by using their connections username and password to gain immediate access. Once students are logged in, they can customize their settings to help the system make recommendations for the types of employment and events they're interested in.
The career interests portion of the student profile is an essential part of the Handshake user experience. Students who indicate that their primary goal is to identify internships in marketing and advertising communications, will begin seeing these types of opportunities posted directly to their dashboard. Not only that, but introducing students to employers who indicate that they're hiring students in their academic area is a great way to explore lesser known employers.
"There are sometimes dozens of employers who are waiting to be approved to post positions at Webster," Link says. Each employer goes through an extensive screening process to ensure that the types of jobs they're recruiting for match the academic programs that Webster University offers at the undergraduate and graduate levels.
For questions about Handshake, or to gain access to the system as a student user, e-mail careercn@webster.edu.