Recruiters On Campus: Midwest Valet Visits Campus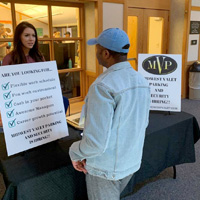 At the beginning of the academic year, many students are adjusting to their class schedules and looking for on and off-campus jobs that will help support themselves and contribute to their college education.
During the fall semester, the Career Planning and Development Center will offer the Recruiters on Campus program to assist students in identifying the "right now" job that will do just that.
Students will be able to chat with local recruiters and gather information about St. Louis-area employers. Tables will be set up at the University Center Commons and Edward Jones Commons area in the East Academic Building. The organizations will promote seasonal, part-time, flexible, summer, and entry-level opportunities.
On Sept. 5, the Career Planning and Development Center welcomed Midwest Valet Parking (MVP) to campus for an employer information table in the University Center Commons. Midwest Valet Parking offers flexible hours, great pay and an exciting work environment. MVP team members undergo extensive training to exceed client needs and expectations. MVP delivers the hard-to-find presence in the valet, parking and security sector for restaurants, parking facilities, luxury hotels and high end living facilities throughout the St. Louis metro area.
"Working part-time jobs while in college, has been known to improve time management and teamwork skills, so we're glad to offer this access to opportunities for our Webster students," Trezette Dixon, assistant director, Employer Relations.
Students can find these events and more in Handshake, Webster University's online career management and recruiting system. For more information on Midwest Valet Parking, visit their website .
Upcoming Events for Career Planning and Development Center
Wells Fargo Advisors
Opportunity Spotlight: Wells Fargo Advisors Practicum Program
Thursday, Sept. 12, 2019
11:30 a.m. – 1:30 p.m.
East Academic Building, Edward Jones Commons
Career Fair 2019
Tuesday, Oct. 8, 1:00 p.m. - 4:00 p.m.
University Center, Grant Gym