Kingdom House shares summer job opportunities with students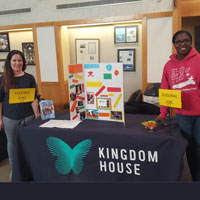 To kick off the Career Planning & Development Center's Spring On Campus Recruiting, Kingdom House representatives Misti Johnson and Katie Smith hosted an information table Jan. 24 in the University Center Commons on the Webster Groves campus, sharing information about some exciting summer opportunities for Webster students.
Kingdom House provides critical social services to the poorest of the poor in St. Louis. The organization will roll out the Children Defense Fund (CDF) Freedom School model and they are seeking dedicated and passionate Webster students to help with the new summer program.
"Our kids are scholars with much potential that can be realized with your help and support," said Scott E. Walker, Kingdom House president and chief executive officer.
Gregory Johnson, a 2016 Webster graduate (MA, Community Professional Counseling) and former employee of Webster University, recently joined Kingdom House as the teen advisor for high school programs. Johnson has 8 years of experience with the CDF Freedom School. "With the help of my career advisor, John Link, and Webster's online recruiting system, Gorlok Career Link, I found this great opportunity at Kingdom House; a place that shares my values and my passion," said Johnson.
Kingdom House has several available opportunities posted in Gorlok Career Link. For more information about these opportunities and Kingdom House, contact Yvonne Hart, director of Youth Development, at yhart@kingdomhouse.org.