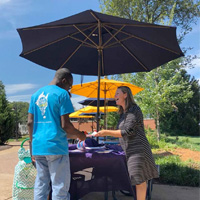 The Career Planning and Development Center kicked off the beginning of the school year with "Recruiters On Campus" on Aug. 29, from the Gateway Region YMCA.
Shelly Norkaitis, executive director of Gateway Region YMCA, joined Welcome Week by hosting an information table in the Quad outside the University Center. Notkaitis visited the home campus to advertise students of their need to recruit nearly 75 staff for before and after school programs. The Gateway Region YMCA is currently offering a $200 sign-on bonus for newly hired staff.
During the fall semester, the Career Planning and Development Center will provide numerous opportunities for students to chat with local recruiters and gather information about St. Louis-area employers. Tables will be set up at the University Center Commons and Edward Jones Commons area in the East Academic Building. The organizations will promote seasonal, part-time, flexible, summer and entry-level opportunities. Midwest Valet will be joining Webster as "Recruiters On Campus" this week on Thursday, Sept. 5.
Students can find these events and more in Handshake, Webster University's online career management and recruiting system.
Upcoming Events for Career Planning and Development Center
Midwest Valet Parking Information Table
Thursday, Sept. 5, 11:30 a.m. - 1:30 p.m.
University Center Commons
Career Fair 2019
Tuesday, Oct. 8, 1:00 p.m. - 4:00 p.m.
University Center, Grant Gym