Carl Walker Named Interim Women's Tennis Coach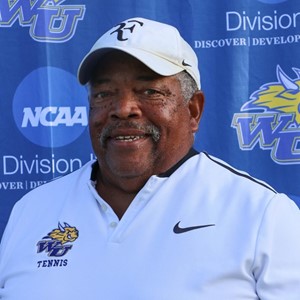 Webster University Director of Athletics Scott Kilgallon has named current volunteer assistant coach Carl Walker as the interim head women's tennis coach at Webster University for the upcoming 2019 fall season. Walker becomes the 14th head coach in the 35-year history of the program.
"I am very excited for the opportunity to serve as the interim women's tennis coach at Webster University," said Walker. "My goal as the interim coach is to help each player to achieve their goals by being dedicated, responsible, having integrity, vision and enthusiasm. Put these all together and it is the acronym, D.R.I.V.E."
Along with serving as Webster's interim head women's tennis coach, Walker will also serve as the manager of the Webster Groves Recreation Tennis Center, which serves as the home court for Webster's men's and women's tennis teams.
"We are excited to have Coach Walker serve as the interim women's tennis coach," said Kilgallon. "He is very familiar with our players after serving since 2014 as an assistant tennis coach and he is well respected in the tennis profession. I would like to thank former coach Martha Davis-Goldstein, who is working with Coach Walker during this transition as we continue to strive to provide a positive experience for our student-athletes."
Walker, who was been involved with tennis locally in the St. Louis area for nearly 30 years, has served as a volunteer assistant coach for the Gorlok women's tennis program since 2014. In addition to working at Webster, Walker has also served as a tennis instructor at both the Missouri Athletic Club in Town and Country, Missouri., and Vetta Sports Concord in St. Louis. Walker worked at the Missouri Athletic Club from 2016-18 and has worked at Vetta Sports Concord since September of 2018.
Along with serving as a tennis instructor at both the Missouri Athletic Club and Vetta Sports Concord, Walker spent nearly 17 years as the Head Tennis Professional and Director of USTA-NJTL at the Dwight Davis Memorial Tennis Center in Forest Park.
In his duties at Dwight Davis, Walker was involved in organizing all adult and junior programs and also hired and trained staff for nine city parks that reached over 800 kids each summer.
During his time running the Dwight Davis Tennis Center, Walker, who is a St. Louis native, spent four years (1991-95) as the head men's and women's tennis coach at the University of Missouri-St. Louis.
Walker earned his Associate of Science Degree in Recreational Tennis Teaching and Pro Management from Tyler Junior College in Tyler, Texas, in 1988. He is a member of the United State Professional Tennis Registry.
Walker takes over a Gorloks women's tennis program that has won seven regular season St. Louis Intercollegiate Athletic Conference championships, four SLIAC Tournament titles and has four appearances all-time in the NCAA Division III Tournament, including advancing to the second round in 2015. Last season, Webster went 7-9 overall and finished third in the SLIAC with a 3-2 record and fell to Principia College in the semifinals of the SLIAC Tournament. The Gorloks will return four of its top six players from last season's team, all of which earned All-SLIAC honors in 2018-19.