Carter Leads Music for Circus Harmony, Tickets Available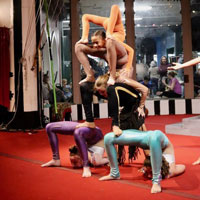 Jeffrey Carter, professor and chair in the Department of Music, is currently working as the music director and composer for Circus Harmony, a St. Louis' only social circus organization, that uses circus art to motivate social change. The top-level kids from ages eight to 20 put on a full-length circus show with a live band every January.
Carter has written the music for the show titled FLUENTE, an underwater circus adventure, suitable for all ages. Imagine blowfish on stilts, seagulls walking a wire, fisherman juggling, and an octopus contorting. FLUENTE performances are Jan. 18-19 and Jan. 26-26.

Working alongside Carter in the band includes current Webster sophomore music major Noah Lovins, who also composed some of the music for the show and playing keyboard. Webster Community Music School staff member Joe Winters will also be included in the show playing drums, and Music alumnus Jake Stergos BM '15 will play bass.
"This group deserves a huge audience for each show," said Carter. "Gather a group and have an outing. This show is so fun, so engaging, so fresh and different. It's a delight that anyone interested in clean laughs and thrills should see."
Tickets
Tickets are available here and may also be purchased at the door. Circus Harmony performs at the City Museum, guests can add on the rest of the day at the Museum for an additional $5 once they arrive for a show.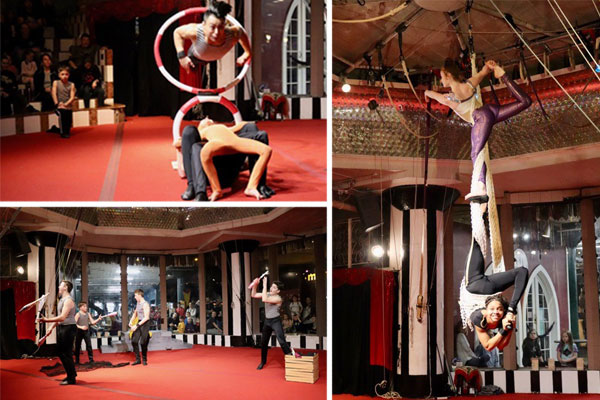 Show Dates, Times
Saturday, Jan. 18, 2 p.m. and 7 p.m.
Sunday, Jan. 19, 2 p.m.
Saturday, Jan. 25, 2 p.m. and 7 p.m.
Sunday, Jan. 26, 2 p.m.
Circus Harmony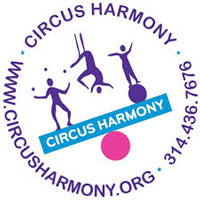 Circus Harmony is a non-profit social circus organization that uses circus arts to motivate social change. By inspiring individuals and connecting communities with circus education and entertainment programs, and have a positive impact on the St. Louis area and beyond.
Circus Harmony has gone from ten students to over 1300 students and from presenting 40 shows a year to over 500 shows a year. Over 70% of the population Circus Harmony serve are from low-income families. Through the circus school inside of City Museum and numerous outreach programs, Circus Harmony builds character and expands community for more youth of all ages, cultures, abilities and economic backgrounds.
In the last ten years, Circus Harmony has developed youth circus troupes, which consist of Jewish, Christian, Caucasian, Hispanic, African-American and Asian children from inner-city and suburban areas throughout St. Louis. They practice and perform every week at the circus school space at City Museum in downtown St. Louis. The programs teach valuable life skills like perseverance, focus, and teamwork. Learning circus with others teaches trust, responsibility and cooperation.