Audio: Johnny Rabbitt on 'Dance Through the Decades'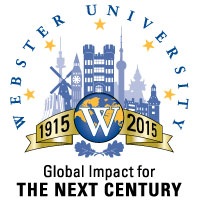 Friday's all-day "Dance Through the Decades" event will celebrate the centennial through the language of dance with a variety of performers, lectures and other interactive events.
One presenter will be Ron Elz, the radio legend who will present on "the teen scene" of the '50s and '60s, in the era of Elvis, the Beatles, Ike and Tina Turner and the St. Louis Browns. Hear a radio promo [mp3] of Friday's events in Elz's "Johnny Rabbitt" character.
See a full lineup of "Dance Through the Decades" events, which include presentations by Webster faculty, staff, students and community legends like Elz.
Earlier this week, Department of Dance chair and assistant professor James Robey was on KMOX to talk about Friday's events, including his own presentation with students on modern dance at 2 p.m.
About Johnny Rabbitt
This year marks the 61st year in radio for Elz. The St. Louis icon first broadcast in St. Louis as rock and roll DJ Johnny Rabbit in 1962. For the past seven years, "Johnny" has hosted KMOX's Saturday night "Route 66" playing the big hits of the '50s through the '70s. He adds interesting bits of information about St. Louis and its history throughout the program.
Read a 2014 St. Louis Magazine profile of Elz here, and a "walk down memory lane" with him from the Ladue News in 2015 here.
Elz's knowledge of St. Louis is detailed and deep. He grew up on Flora Place in the St. Louis Shaw neighborhood and has lived in the St. Louis Hills area for 40 years. He has written two books on St. Louis trivia and is working on two more about St. Louis.
He is an inductee of the St. Louis Radio Hall of Fame, but Ron has earned what quite possibly is an even greater honor: Ted Drewes Frozen Custard, the nationally known St. Louis "must go," offers the Johnny Rabbitt Chocolate Covered Cherry Custard. This concoction, it turns out, is another St. Louis favorite.