View 'Webster: 100 Years' Documentary Online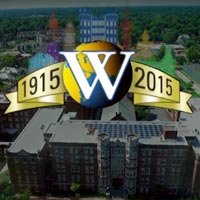 The Nine Network documentary "Webster University: 100 Years," which aired on the St. Louis PBS affiliate in September and October, is now viewable on the Nine Network website.
Produced by Nine Network's Patrick Murphy, himself a Webster alumnus and Webster Groves resident, the film traces the University's community impact through the decades leading up to the centennial, and highlights the vision for its second century.
The film includes rarely seen archival footage and interviews with Webster leaders, Sisters of Loretto, historians and community members who witnessed Webster's transformation.
View a trailer for the film below and watch the full 26-minute documentary at the Nine Network website.
Among the interviewees appearing in the film:
Tom Cooper, co-author, "Images of America: Webster Groves"
Annie Stevens, S.L., adjunct faculty, Webster University
Beth Stroble, president, Webster University
Barbara Ann Barbato, S.L., professor emeritus, Webster University
Elizabeth Robb, alumna and Webster University Centennial Chair
Peter Sargent, dean, Leigh Gerdine College of Fine Arts
Frank Jacobs, former Webster board member
Julian Schuster, provost, senior vice president, chief operating officer, Webster University
Nicole Roach, associate vice president of Diversity and Inclusion, Community Engagement, Webster University
Steven Woolf, artistic director, Repertory Theatre of St. Louis
Gerry Welch, mayor of Webster Groves
Timothy O'Leary, general director, Opera Theatre of Saint Louis
Donald Suggs, former board member, community leader