Centennial Time Capsule Ceremony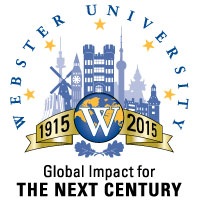 Faculty, staff and students are invited to attend the Centennial Time Capsule Dedication Ceremony on Friday, Sept. 25, at 1 p.m. at the flagpole outside Webster Hall.
Prior to the ceremony, guests are invited to arrive early to view the time capsule contents, which include special items from Webster's home and international campuses.
Speakers for this event include President Elizabeth (Beth) J. Stroble, Provost Julian Schuster, alumna and centennial planning chair Elizabeth Robb, alumna MaryAnn Wyrsch (student government president 1965) and Caroline Wiley (Student Government Association president 2015).
The ceremony will conclude with the viewing of past time capsule contents from Emerson Library and Sverdrup in Webster Hall outside the Webster Groves room until 2 p.m.
Other festivities and events planned for the 100th anniversary Homecoming weekend include Student Life Hall of Fame Induction Ceremony, "Welcome to the Future of Dance", the Centennial lecture with Alicia Graf Mack, Lightning Talks, the 11th Annual Student vs. Alumni Flag Football Game and, the highlight of the weekend, the Centennial Alumni Dinner/Dance at the Missouri History Museum in Forest Park with the Ralph Butler Band performing.
For a full listing of Homecoming Weekend events and to learn more, visit the 2015 Homecoming Reunion and Family Weekend page.