Center for Liberal Arts Congratulates Graduating Philosophy Student Samuil Pavlevchev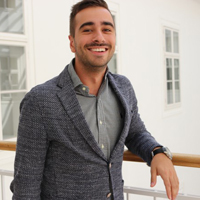 The Center for Liberal Arts (CLA) is pleased to announce that WVPU student Samuil Pavlevchev has recently been accepted into the MPhil program at Kingston University's Centre for Research in Modern European Philosophy (CRMEP), where Pavlevchev plans to begin his studies in Fall 2020. CRMEP is not only the leading center for postgraduate level study and doctoral research in continental philosophy in the UK, it is also widely regarded as one of the best places to study philosophy in the world.
"Joining CRMEP is not only a great opportunity for me to continue my studies of philosophy and psychoanalysis," says Pavlevchev, "It is also a chance for me to deal with problems I haven't yet had the opportunity to fully explore — concerning questions of hope and optimism, ingrained habits and the threat of extinction — in one of today's most dynamic intellectual environments. Where I go from there, I can't really say. But what I do know is that Webster Vienna provided me with the kind of community I expect my time in London will show me to have been essential to whatever it is I will do afterward."
A native of Dupnitsa, Bulgaria, Pavlevchev began his studies at WVPU in 2016 as a psychology major and Borealis Scholarship recipient. Since then, his academic achievements have earned him numerous accolades: first-place at Webster's Graduate Research Summit, Outstanding Senior in 2019 and soon to graduate summa cum laude this coming summer. A Philosophy minor, as well as co-founder and now President of WVPU's Philosophy Club, Pavlevchev has earned the respect and admiration of peers and professors alike.
"I have hardly ever met a student with such a sense for philosophical thinking as Samuil," writes CLA Adjunct Faculty in Philosophy Sandra Lehmann, "You can tell just how impressive is his aptitude for philosophy by how he transforms the most abstract questions into concrete and practical problems. It seems to me that Samuil is not only setting himself on a very promising path but that he has the gifts to bring this path to an equally good end — with the proviso, of course, that philosophy actually has no end." According to Alexi Kukuljevic, CLA Adjunct Faculty in Philosophy, "Samuil is one of those rare students whose enthusiasm for and dedication to the study of philosophy stems from a profound intellectual curiosity. There is a radical difference between learning by rote and being seized by an idea. The energy and commitment Samuil brings to his philosophical engagement is clear evidence of the latter and I am certain that he will flourish at the Kingston University philosophy department."
For CLA Department Head and Assistant Professor of Political Philosophy Ryan Crawford, it is Pavlevchev's commitment to a collective intellectual inquiry that makes him so unique: "Many have the capacity for precision demanded by philosophy," says Crawford, "far fewer the passion necessary to sustain themselves in a field so difficult, and fewer still are those who know that the great problems of philosophy can only be satisfactorily approached through collective work with others. Samuil is one of those rare people who know all of this, draws the consequences, and puts it into practice."
Pavlevchev's student peers are no less enthusiastic in their appreciation for all he has contributed to the university's intellectual life. "Samuil's excitement for the subject is contagious," says fellow student Vanessa Miller '20, "His open-hearted and non-judgmental inquisitiveness kept the discussions flowing and growing. He also built bridges for students to continue the discussion outside of the classroom through the many Philosophy club events that he organized." For Alessandra Flöck '22, Samuil always seemed to be "the very personification of philosophy": "I can still see him in the first philosophy class we had together," she says, "sitting in the front row, book in his hands, engulfed in the work, clearly so much loving what he was doing." "Samuil deserves a great deal of credit for making the Philosophy Club such a warm and welcoming place," according to Iya Demianiuk '23, "despite the seriousness of the topics discussed there. I'm so glad that I had a chance to learn from Samuil." "Without his enthusiasm," says Ines Boga '22, "My first-year university experience would have been insignificant. He made me feel comfortable pursuing my interests in the Philosophy Club, which has opened up a whole new horizon for me. And while I think we will all miss his presence, I will continue to be inspired by him from afar." For Jayson Smith '22, "The establishment of a strong community of budding philosophers will be Samuil's greatest legacy," he says, "So many of us are dedicated to emulating his dedication and continuing what he has started."
It is with great joy that Webster Vienna's Center for Liberal Arts wishes Samuil Pavlevchev the best of luck in all his future endeavors.