Snapshots: Webster Central Florida Commencement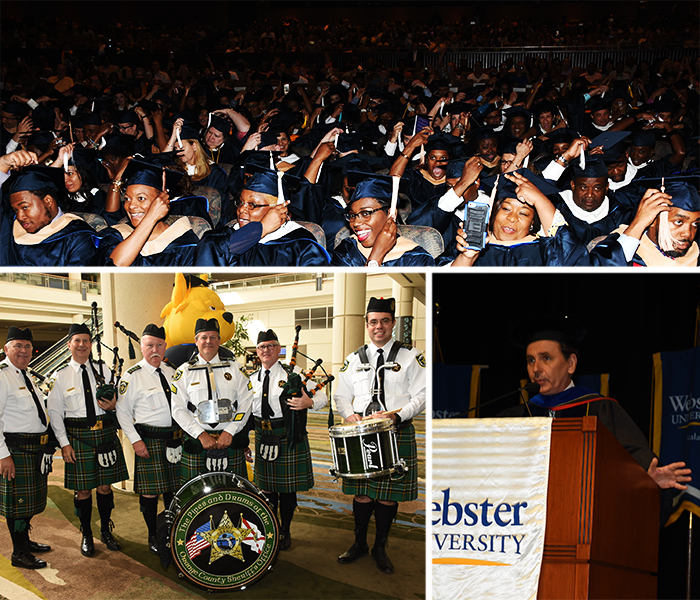 The Orlando campus hosted the Webster University Central Florida Region's second annual joint commencement ceremony, bringing graduates from multiple campuses across the state together on Saturday, April 22.
Julian Schuster, Webster's provost, senior vice president and chief operating officer, was the keynote speaker for ceremonies at the Orange County Convention Center in the Linda Chapin Theater.
About 240 graduating students from the Webster Ocala, Lakeland, Jacksonville, Merritt Island, Melbourne and Tampa Bay campuses were able to attend in person along with family and friends.
The Pipes and Drums of the Orange County Sheriff's Office performed Scotland the Brave and High Road to Garloch during the prelude.

Commencement Tradition at Webster University
Across the network of Webster campuses around the world, local ceremonies will continue throughout the summer and into the fall depending on local schedules.
The largest of these is in St. Louis, where Webster University was founded in 1915, and where its 98th commencement ceremony will take place at The Muny in Forest Park on Saturday, May 13. Gen. Paul Selva, the vice chairman of the U.S. Joint Chiefs of Staff, will be the keynote speaker at that ceremony.
Worldwide, this year there are 6,058 graduates from 125 countries, bringing Webster's alumni network to over 192,000 around the world.