French and Francophone Studies International Conference March 17-19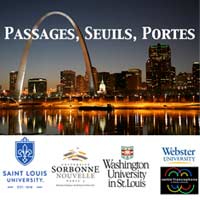 Lionel Cuillé, the Jane and Bruce Robert Chair in French and Francophone Studies in Webster University's College of Arts & Sciences, is the lead organizer for Passages, Seuils, Portes, the annual international conference in French and Francophone Studies, to be held March 17-19 at the Hilton St. Louis at the Ballpark. Other conference organizers include Pascal Ifri, Washington University; Jean-Louis Pautrot, Saint Louis University; and Olivier Penot-Lacassagne, Université Sorbonne Nouvelle.
Three hundred scholars and speakers from around the world are scheduled to attend. This year marks the first time for the event in St. Louis. Previously, the conference has been held in cities such as New York City, Chicago and Atlanta. "I hope it will put St. Louis on the map with its strong francophone heritage," said Cuillé. "It was very important to host the conference near the ballpark and the old French village by the Arch."
Cuillé said that for the French academics that are coming, this colloquium is unbelievable in size: three days with eight concurrent sessions each day. "It is the largest conference of its kind in the U.S. and likely the largest conference of its kind internationally," he said. "Even in France, they do not organize conferences with that many speakers."
Cuillé drafted the call for submissions and chose "gates" for this year's conference theme. "I started from our city's [St. Louis] symbol, the Gateway Arch," he said. "I needed a relevant theme which could be relevant for all Francophone scholars, coming from Europe and Africa.
Conference organizers received more than 450 proposals, of which 300 were accepted. Many conference proposals deal, for example, with the migrants crisis, or various thresholds (of race, of gender, of class) as they are represented in Francophone literature and films. Making the final selection of proposals wasn't easy because they were many."
"It is great that Webster and the French section in International Languages and Cultures (ILC) is represented during such a major event," said Cuillé.
About Lionel Cuillé and the Webster University Center for Francophone Studies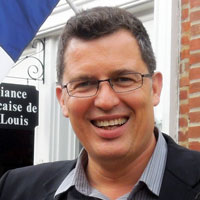 Lionel Cuillé was named the College of Arts & Sciences' inaugural Jane and Bruce Robert Professor of French and Francophone Studies, in August 2012. Cuillé holds a doctorate in Literature and the Arts from the prestigious E.N.S in Lettres et Sciences Humaines (Lyon) where he co-directed the Centre d'Etudes Poétiques. His area of specialization is 19th-21st century French literature. In 2012, he created the Centre Francophone at Webster, which promotes Francophone culture in the St Louis area.
The Jane and Bruce Robert Professorship in French and Francophone Studies was made possible by a generous gift from the Roberts, which established Webster University's first endowed professorship.
Jane Robert '69 is highly regarded locally, nationally and internationally as an advocate for the study of French. She currently serves on the Webster University Board of Trustees. Jane Robert has received numerous honors and awards for her advocacy work, including the French government's knighthood known as "Chevalier dans l'Ordre des Palmes Académiques" in 1998 and the French Legion of Honor in 2007, which is the highest distinction awarded by the French government.