Forensic Accounting Speaker, Scholarship Winner at Certified Fraud Examiners Speaker Series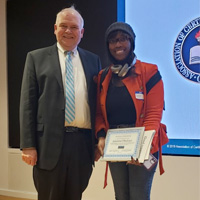 On Jan. 30, CFE and former Texas Ranger financial crime investigator and Army Intelligence Analyst Jason Zirkel was featured as the keynote speaker at the 9th annual Greater St. Louis Area Chapter of the Association of Certified Fraud Examiners (ACFE).
Zirkel spoke to over 100 professionals, students and faculty members at the Browning Hall Auditorium during the Webster University's Forensic Accounting Speaker Series, reviewing a case he investigated involving elder abuse and nursing home fraud. As he discussed the steps taken in this investigation, he included interviews from the victim's family and the other investigators on the case. The case involved a million dollar fraud and resulted in the murder of one of the victims.
Zirkel was introduced by Paul Graser, the senior fraud investigator at Edward Jones in St. Louis, who specializes in preventing elder financial fraud. Graser also provided those in attendance some tips in preventing elder financial fraud and introduced his website which contains information concerning various financial fraud schemes, scamaddicts.com.
Forensic Accountic Scholarship Awarded
Another part of the this evening was the awarding of the Greater St. Louis Area Chapter of the ACFE's $1,500 scholarship to Adesina Oludayo, a student in the MS in Forensic Accounting program at Webster University. This scholarship is awarded to a Webster University student who intends to pursue a career in fraud examination or a similar anti-fraud profession.
There was also a reception and networking event for all in attendance.