Chakaryan Discusses Counseling, Ethics in Armenia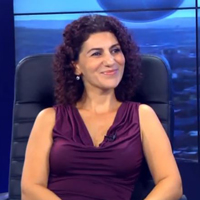 Hasmik Chakaryan traveled across Armenia this summer as a part of a Webster Univeristy Faculty Research Grant she was awarded for 2018-19.
Chakaryan is an assistant professor and director of Clinical Programs in the Department of Professional Counseling in Webster's College of Arts & Sciences.
During the trip, Chakaryan held two workshops, the first on the topic of clinical counseling (structure, concepts, ethics, practice) and a second on the need for and importance of a code of ethics, which currently does not exist in the field of mental health in Armenia. She had over 60 attendees between the two workshops and drew some public attention for her efforts.
During the discussion on ethics, she led the group of practicing professionals in two case study analyses that were presented by the director of the psychological center where the workshop was held. The director had collected situations that had appeared to present an ethical dilemma in her own understanding and studying codes from other professions and countries. The group then analyzed the cases that were taken from real situations within the psychotherapy practice in Armenia and came to general conclusion that a standardized code of ethical guidelines is necessary.
As part of this trip, Chakaryan was also invited to conduct a live television interview on counseling, the status of mental health in Armenia, and the factors challenging the development of counseling in the country. The interview, spoken in Armenian, can be found on YouTube here.
In addition, Chakaryan was invited to write an article for a special issue of the Regional Post- Caucasus regarding the need for mental health research and professional services. The Regional Post has a wide international audience; Chakaryan's article will be published in English this October.
With this work Chakaryan aims to share the importance of mental health counseling across the world and influence future generations of counselors and mental health professionals.
Faculty Research Grants at Webster
The purpose of the Faculty Research Grant program at Webster University is to encourage and promote faculty research and professional development. Grant applications are invited for scholarly research, academic projects, artistic performances, exhibitions and studies in any discipline. Proposals that might lead to external funding are encouraged.
The deadline to apply for grants for 2019-20 is Friday, Nov. 2, by 5 p.m . For more information, view the full 2019-20 Faculty Research Grant call for proposals [PDF].