Chamber Singers Selected to Perform with Boston Camerata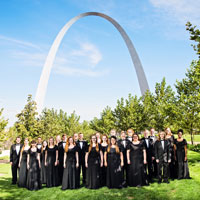 Members of Webster University choral ensembles join one of the world's best early music ensembles, The Boston Camerata, performing an early masterpiece, The Play of Daniel, at the Cathedral Basilica of Saint Louis on Tuesday, Jan. 31. Click here to purchase tickets.

"The Play of Daniel is a powerful medieval mystery play composed eight centuries ago in Beauvais, France," said Trent Patterson, director of Choral Studies. "In a new edition and staging, The Boston Camerata renews and transforms this classic work of early music theater. It brings together music and movement, theater and liturgy, light and shadow, to retell the biblical story of the young prophet for today's audiences. The work was selected as 'best of the year' by Boston critics."

"We've remarked before that our choirs are the go-to university choral groups in this area," said Jeffrey Carter, chair of the Department of Music. "Yet again, we are delighted that they have received the call to collaborate with an international artist in an exciting creative endeavor."
The Play of Daniel
The Boston Camerata
Tuesday, Jan. 31, 8 p.m.
Cathedral Basilica of Saint Louis
Tickets: $42, $29, $19

In February, the Webster University Chamber Singers will tour to the Nashville, Tennessee, area and appear again at the Cathedral Basilica in a concert with other Saint Louis-area university choirs. In March, the group performs with other Webster University singers at Carnegie Hall in New York City. Their first-ever CD recording, Beginnings, was released in 2014. During the 2015-16 school year they performed with Broadway/pop superstar Josh Groban in four performances in Missouri and Florida.