Busy December for Chamber Singers, Including 'Home Alone' Screening with STL Symphony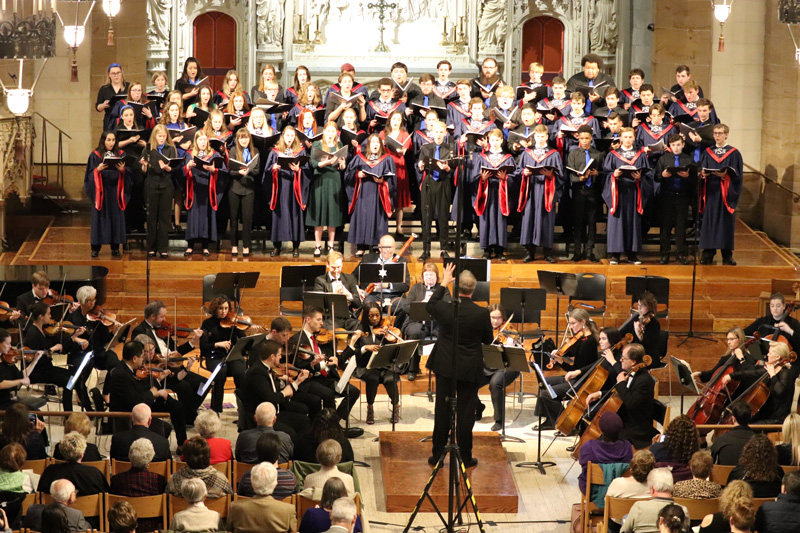 Chamber Singers Gloria performances
The Webster University Chamber Singers, the flagship choral ensemble in the Department of Music performed the Vivaldi Gloria concert last weekend led by Trent A. Patterson, associate professor and director of Choral Studies in the Leigh Gerdine College of Fine Arts. Joining the performance was the St. Louis-area school Parkway South Concert Choir, led by Webster music alumnus Connor Scott BME'16.
The concert was the semester-closing event for the Webster University Orchestra with conductor Paul Davis, associate professor and director of Instrumental Studies, who led the orchestra in a Haydn symphony and seasonal works.
The Chamber Singers joined the Bach Society Dec. 10 at the Powell Hall for the annual Bach Society holiday concert. The concert featured a different setting of the Gloria, a full orchestral version by French composer Francis Poulenc.
Up Next: Home Alone with Saint Louis Symphony Orchestra
Members of the Webster choirs Aurelia and Chorale finish the fall 2019 semester with two performances along with the Saint Louis Symphony Orchestra in the live screening of the 1990 holiday classic Home Alone at Powell Hall on Friday, Dec. 20, and Saturday, Dec. 21.