Chamber Singers to Perform in St. Louis Central Library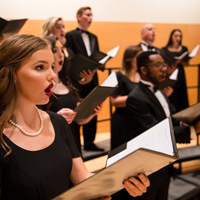 The Webster University Chamber Singers present "Sacred and Profane," a performance in the spectacular Great Hall of the St. Louis Central Library on Tuesday, Nov. 13, at 7 p.m.
The concert features sacred choral works from a variety of musical eras, and concludes with Harmonices Mundi, a work by David Werfelmann, director of the Bachelor of Arts in Music program in the Department of Music, part of Webster's Leigh Gerdine College of Fine Arts.
"In the early 17th century, German astronomer and mathematician Johannes Kepler wrote Harmonices Mundi, a treatise describing a vast cosmic harmony expressed in the motions of the planets," Werfelmann says. "His discoveries, especially those pertaining to planetary motion, would have a profound impact on Enlightenment-era scientists such as Isaac Newton, giving us a deeper understanding of the cosmos. It is his beautiful metaphor of celestial harmony that inspires this work."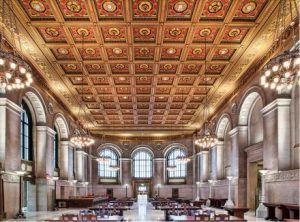 Trent Patterson, director of Choral Studies, leads the Webster University Chamber Singers for this exciting performance. Admission is free.
The Great Hall is one of several grand spaces in the High Renaissance style library, which is located at 1301 Olive Street, 63103.
Chamber Singers
One of the choral ensembles in the Department of Music, the Chamber Singers choir appeared at the 2017 National Collegiate Choral Organization biennial conference in Baton Rouge, Louisiana, where their performance was acclaimed for its stylistic diversity and emotional impact.
In 2016­–17, Chamber Singers collaborated with Boston Camerata on the medieval play Daniel and with Josh Groban in multiple performances on his international Stages tour.