Chamber Singers Selected to Perform at NCCO in Baton Rouge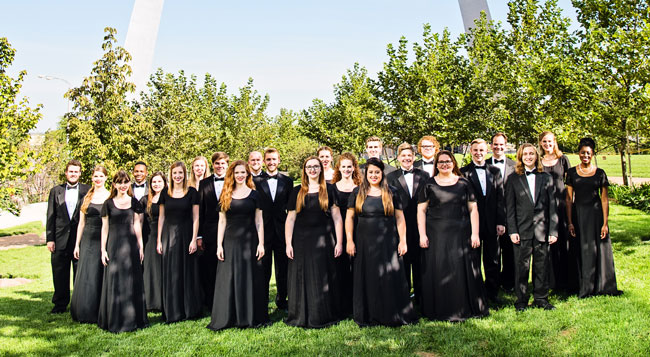 The Webster University Chamber Singers ensemble is one of 10 collegiate choirs selected through a blind peer review to perform at the biennial conference of the National Collegiate Choral Association (NCCO). The performance in Baton Rouge is Friday, Nov. 3.
A free preview concert, open to all, will be presented on Monday, Oct. 30, at Second Presbyterian Church, 4501 Westminster Place, in the Central West End. Concert time is 7:30 p.m.
Follow Along as they Make their Trip
Follow the students during this exciting week, from their preview concert in St. Louis to their destination in Louisiana: Student Hunter Johnson "takes over" the MyWebsterU Instagram the week of Oct. 30-Nov. 3 to give an inside look into the experience.
A Select Invitation
"This prestigious invitation is a testament to the hard work and dedication of many Webster student musicians and alumni," said Trent Patterson, director of Choral Studies in Webster University's Department of Music. "The invitation demonstrates the strength and excitement being generated by the more than 100 students who sing in the Chamber Singers, Concert Choir, and Women's Chorus on the Webster University main campus."
"We are especially delighted that this invitation comes after blind review of recordings by choral conductors who are seeking the best choirs for this conference," said Jeffrey Carter, professor and chair of the Department of Music. "The peer-review process validates what we know to be true: the Webster University choral program is one of the top in the nation amongst our peer institutions."
Performance Will Cross Cultures, Languages
Chamber Singers' 30-minute performance will crisscross cultures, languages, and push the boundaries of musical styles often associated with collegiate chamber choirs. Choir members are delighted that composer Michael Engelhardt agreed to create a piece that will tie several of the more divergent works together.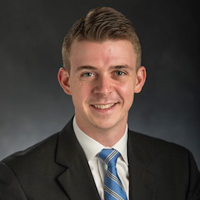 "Mike is one of the most exciting American choral composers on the scene today, and I am thrilled to include one of his pieces on our program, especially since he is now one of St. Louis' own," Patterson said.
In addition to works representing the choral heritage of Germany and Estonia, the program will conclude with the Sheryl Crow co-penned All kinds of People in this World.
"I am a huge Tina Turner fan," said Patterson. "I was listening to Tina's hip-hop infused rendition of the song when I had this idea of doing a choral arrangement of the timely text and spirited tune." The purpose-written arrangement is by Webster faculty member Stuart Chapman Hill, who serves as director of Music Education and is an active choral composer and songwriter.
Leadership training and musical preparation for this performance began in August before the fall semester started. The 25-member ensemble includes undergraduate students majoring in choral music education, vocal performance, music composition, music direction for musical theatre, and political science, as well as several graduate students representing Webster's Master of Music programs in piano performance and vocal performance.
Respected Choral Program's Reputation Grows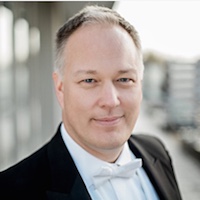 "Our choral program continues to develop strong partnerships with some of the country's most respected musicians and leading professional arts organizations," said Patterson.
They recently collaborated with Boston Camerata on the medieval play "Daniel" and with Josh Groban in multiple performances on his international "Stages" tour. Multi-media projects include a YouTube channel, the CD "Beginnings," and the GIA DVD "How to Make a Good Choir Sound Great." Chamber Singers are regularly sought out by composers to perform their music, premiering choral works by composers including New York-based David Lang and Minneapolis-based Matthew J. Olson.
A number of choral professionals have lauded the growing reputation and reach of Webster University's choral music program.
St. Louis Symphony Chorus director Amy Kaiser said, "This evening's concert indicates that the choral program at Webster is truly exploding with talent and energy, and that the community of listeners and supporters is exploding as well. This is so important for St. Louis and gives me great hope for the future of choral music and music education in the region."
Mark Lawley, former president of the Missouri Choral Directors Association and regional president for the American Choral Directors Association, said, "As I have enjoyed a front row seat to choral excellence in Missouri, Texas, Colorado, Kansas, Oklahoma, Arkansas, and New Mexico, it has been a thrill to see the Webster choral program rise to state, regional and now national prominence. It is with some authority that I recognize them as one of the top choral programs in the nation. Their selection for NCCO is one more testament of the caliber of high artistic work that Dr. Patterson coaxes from his Webster University singers."
The Webster University choral program includes three choirs populated by students from numerous majors. Students also elect to participate in a jazz choir and opera ensemble. The Department of Music offers 12 choices of undergraduate degrees in music, plus two graduate programs in music.