Message from the Chancellor, the President and the Chief Diversity Officer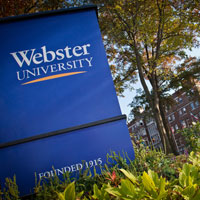 The following message from the chancellor, the president and the chief diversity officer was distributed to the Webster University community on May 30, 2020.
To the Webster University Community,
Webster University has always led conversation and action to meet the challenges facing society. Our mission of meeting unmet needs holds our core values of diversity, equity, and inclusion at its foundation. That is why we are writing to you out of a shared concern for the welfare of our community. The world is aware of the killing of George Floyd in Minneapolis. This is not the first time the world has witnessed a killing like this, and we can all agree that cases like this have happened too many times.
Floyd's death was a preventable tragedy that has further exposed the need for discussion and action to strengthen fundamental human rights in our global community. We cannot stand by these values without condemning racism, injustice, and inequity.
This killing has sparked anger that in some cases has spiraled out of control and resulted in violence not only in Minneapolis, but in St. Louis, and nationally. The emotional societal reaction to all of this has sometimes obscured the issues rather than illuminating solutions that our University community must play a role in building for a better future.
We realize that not everyone is going to agree about what the accepted forms are today when it comes to expressing anger to protest injustice. The loss of life and property should always be condemned. Peaceful protests and disruption, passionate arguments to produce change, providing resources to under-resourced communities, and policy decisions to remove inequity are all methods that work in a democratic system. We urge our community to support those methods to fight racism, especially in these highly charged and extraordinary times of stress, burdened further by a global pandemic.
The events of the past week have damaged the fabric of our communities and we must seek ways toward stronger healing. Through the unrest in Ferguson in 2014, and the protests after the Stockley verdict in 2017, the Webster community has always stood as a network of locations and campuses that engages on the topics of race and inequity – through peaceful discourse and debate in a manner that respects each individual's dignity and safety. The University has worked toward strengthening diverse communities for decades and we are committed to more positive action to fight injustice, racism, and inequity in the future.
We want our community to know, like you, we are watching these events unfold in Minneapolis, in St. Louis, and in many other communities across the U.S. and we are disturbed deeply. We are living through a moment that reflects society at a crossroads; we must approach this as a time of learning and reflection. But we must also embrace the challenge of this time and construct a map that shows the pathways for communities to set aside divisiveness.
Our diverse University community is woven into the fabric of a global community that is struggling to solve the problems of our era; not just the pandemic but also issues of equity, connectivity, and polarization. Webster's diverse community is made up of many different races and ethnic backgrounds, people from different socio-economic backgrounds, different gender identities, and different experiences. Our community can be one of the many gateways to finding solutions in our times because we hold the potential to build a better future.
The University's long history of engagement on these matters demonstrates our commitment to continue to press for further action and change. We know the larger issues of racism and inequity have not been resolved and have not even been fully addressed by our society. Webster will continue to stand as a catalyst for positive change. Our community has continued the hard conversations that must be enjoined to move forward since Ferguson. The tragedy of the Floyd killing exposes the need to further deepen our urgency in these matters.
We are reaching out today to reaffirm that Webster, as an institution of higher education and a global community of learners, will be part of the solutions to these problems. We are committed to finding those solutions together with you and our larger society. We are committed to being leaders for positive change in these extraordinarily challenging times. We will be reaching out more in the coming weeks and months to identify and lead the methods and manners that will help us all make positive change, which will inevitably strengthen our entire community.
Elizabeth (Beth) J. Stroble
Chancellor
Julian Z. Schuster
President
Vincent C. Flewellen
Chief Diversity Officer