Webster Charleston Hosts Joint Base Charleston Commander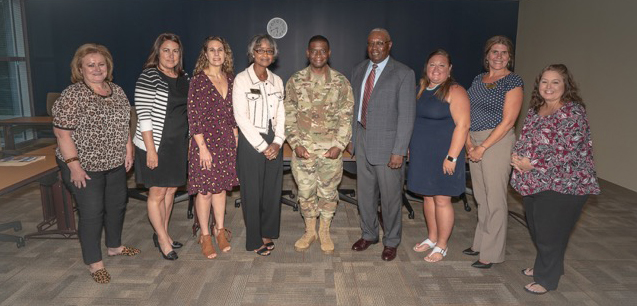 Col. Terrence A. Adams, Commander at Joint Base Charleston, met with the Charleston team on June 19 to discuss programs and academic initiatives.
The visit included campus leadership and staff as well as several faculty members.
Notably, the Webster Charleston campus location was first on the Commander's lists of meetings with local educational institutions to cultivate academic partnerships.
Pictured at top: Cheryl Rankin, Evening Representative; Debbie Grimes, Representative; Dr. Julie LaCubbert, Counseling Core Faculty; Dr. Vivian Gallman-DeRienzo, Campus Director; Col. Terrence A. Adams, Commander, Joint Base Charleston; Dr. Nicolas Anderson (Col., USAF, Ret.), George Herbert Walker School of Business & Technology faculty, Dr. Laura McMaster, Walker School Core Faculty; Sara Hull, Walker School Core Faculty; Robin Sneed-Wiggs, Office Manager.