'Checkmate Alzheimer's' Charity Youth Tournament April 22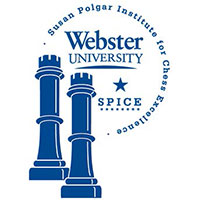 Webster University will host "Checkmate Alzheimer's," a chess charity youth tournament, Saturday, April 22, from 1 p.m.- 5 p.m. in Webster Luhr Building. It is sponsored by the Susan Polgar Institute for Chess Excellence (SPICE).
Children/youth are invited to participate in one of two divisions: Kindergarten-fourth grade and fifth-12 grade. Game involves four rounds with Grandmaster Ray Robson; 20 time control; and United States Chess Federation (USCF) tiebreak methods.
Check-in time is 12:30 p.m. - 1 p.m.
Registration
Donate $15 before April 15 online. Participants may also register onsite by making a $20 cash or check donation payable to the Alzheimer's Association.
Registrants must email their name, grade, email and phone address, and chess rating to Clare Brown.
Sponsorship Opportunity
For a tax deductible donation of $500, participants can get a table on-site and the right to display their own signage, plus the chance to play versus Grandmaster Ray Robson in a special feature at 2 p.m.:
Blindfolded game: Player can see the board and the Grandmaster is blindfolded
Time odds game: Player has 5 minutes to win and the

Grandmaster

has only 60 seconds
Free snacks and drinks will be provided and also raffle prizes.