Webster Competes in National Cheerleading Championships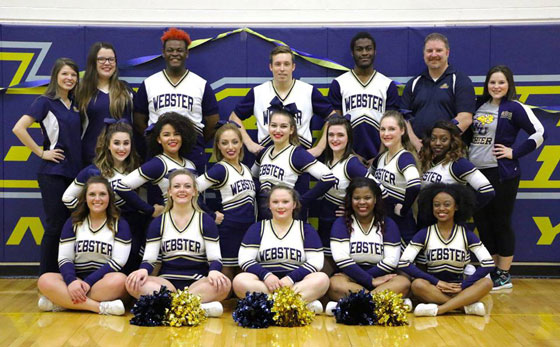 Webster University cheerleaders are making history.
For the first time in Webster University's 102-year history and for the first time in its two-year-old Competitive Cheerleading Program, the team will compete in the Intermediate Co-ed Collegiate Division at the Cheer Ltd. Canam National Collegiate Cheerleading Championships in Myrtle Beach, March 17, 2017.
The squad performs at all men's and women's home basketball games, Webster University Preview Days, and other special events upon request.
Wish them well!
Ahead of their trip, the Webster University Competitive Cheerleading Squad would appreciate any words of encouragement as they cheer on the Gorloks during their first-ever national competition.
Please visit the Webster University Competitive Cheerleading Facebook page at www.facebook.com/gorlokcheer.