Peruvian Wins International Girls' Invitational Chess Tournament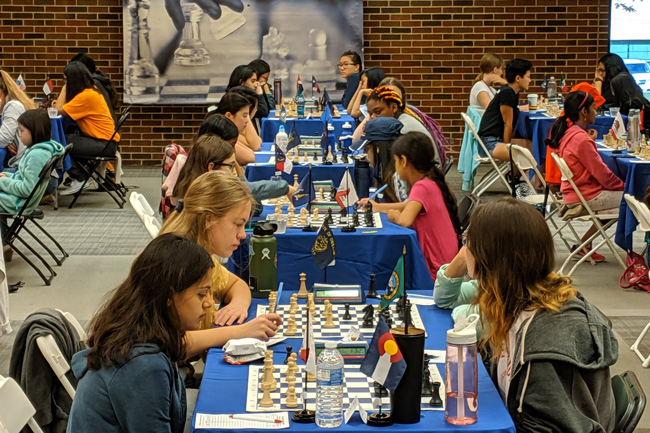 Mitzy Caballero of Peru has won the 2019 Susan Polgar Foundation Girls' Invitational chess tournament held this week at Webster University. Caballero's victory is worth $120,000 in scholarships, cash and prizes.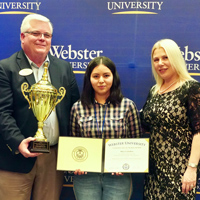 The 16th edition of the annual tournament was its largest ever, drawing 90 top young female chess players from 11 countries, 38 U.S. states (plus the District of Columbia and Guam) and seven Canadian provinces.
It also drew a visit from Webster Groves Mayor Gerry Welch and a letter from the Governor of the State of Missouri, Michael Parson, which was read aloud to participants. That letter stated, in part:
"Webster University's Susan Polgar Institute for Chess Excellence, and its five-time national champion collegiate chess team have helped make St. Louis a preeminent force throughout the world of chess. The Girls' Invitational further strengthens the chess community by advancing and elevating the influence of young women in relation to this ancient game of strategy.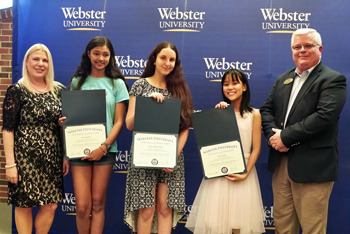 "Missouri welcomes you and commends you for being among the nation's elite chess players. Your presence here today is a testament to your hard work and discipline and to the dedication and support of the families and teachers who have nurtured your talents. Your extraordinary abilities and drive have served you well. As you move through life, you will have the opportunity to be a shining example to other young people and we hope that you will make it a point to mentor and encourage your fellow young women whenever you can."
At the conclusion of the events on Thursday, Susan Polgar and Jim Myers presented the top competitors with their prizes and scholarships. Polgar is the head coach of chess at Webster, founder of this tournament, and a member of the United States Chess Hall of Fame. Myers is the associate vice president for Enrollment Management and director of Financial Aid at Webster.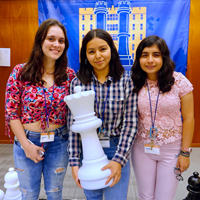 In addition to competitions, the players' week on the Webster University main campus in Webster Groves included group activities and outings, tours, and getting to know one another while making new friends. Many had friends and family with them, with engagement opportunities for their parents also part of the programming.
While congratulating various prize recipients, including awards for the top players under age 10 and 13, Webster's provost, senior vice president and chief operating officer Julian Schuster reflected on these activities with the participants, who represent the top players from their respective countries: "You are all winners," he said.