Susan Polgar Foundation Girls' Invitational opens as children's camp concludes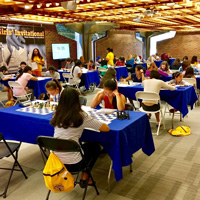 It's a busy July for chess at Webster University, where the Susan Polgar Foundation completed a chess camp with 100 children last week before opening the annual Susan Polgar Foundation Girls' Invitational this week.
The international tournament welcomes 75 young women and girls from 13 countries in North, Central and South America competing for scholarships and prizes. It is not an open event, but rather one where participants must be nominated by their state or country, either as the girls' champion or by chess rating.
This year's edition includes some special guests: Seven alumnae from the tournament dating back to its early years in 2005 were on hand to help welcome this year's competitors and reunite with Polgar, who is the head coach of Webster University's record five consecutive national champion collegiate team. "A few are currently in college. Most graduated and are now embarking on fantastic professional careers," Polgar beamed.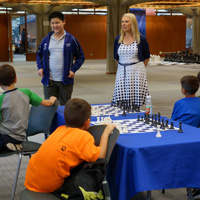 The children's camp completed last week included a special guest of its own: Recently crowned United States Junior Champion Awonder Liang visited campus with his parents and spoke with the children.
During the camp, which included two girls classes of over 25, the over 100 participants learned from 10 instructors, including many current students and members of the Webster University chess team.
Many of them couldn't get enough: They returned to the Luhr Building after camp to compete in rated tournaments and further hone their skills.