Webster Student Wins 120th Chess U.S. Open Championship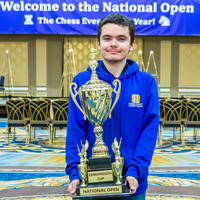 Webster University graduate student, alumnus and chess team member Illia Nyzhnyk has won the prestigious 120th U.S. Open Championship. Lazaro Bruzon, a fellow grandmaster and Webster teammate, finished 2nd.
This builds on a successful summer for Nyzhnyk, who won the National Open in June and the U.S. g/10 and U.S. g/60 championships in July. These are the 55th, 56th, 57th, and 58th national titles won by members of the Webster chess team since the program was formed in 2012.
Nyzhnyk, born in Ukraine, recently broke into the elite top 100 chess players in the world at number 77. He is 7th in the U.S. rankings.
Webster University's five-time national collegiate champion chess team is expected to enter the 2019-2020 season as the top-ranked college chess team in the country for a record 360+ consecutive weeks.