Webster China Joins Other American Universities at AUCA Career Fair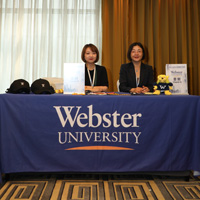 Webster University China staff took a large part in the just completed 2018 American Universities China Association (AUCA) career fairs. More than 4,000 students representing 16 universities and other institutions attended the fair events. Most of the attending students graduated in 2018. Graduates attended fair events in Shanghai on July 21, Shenzhen on July 28 and Beijing on Aug. 4.
Webster University staff had been working on the three events during most of 2018. Nelly Zhang of Webster is a founding member of AUCA in China and worked with the rest of the board members on planning and staging the fairs. Candice Zhao, Webster Beijing, along with Ady Cao, and Echo Chen from Webster Shanghai, all contributed to the success of the events.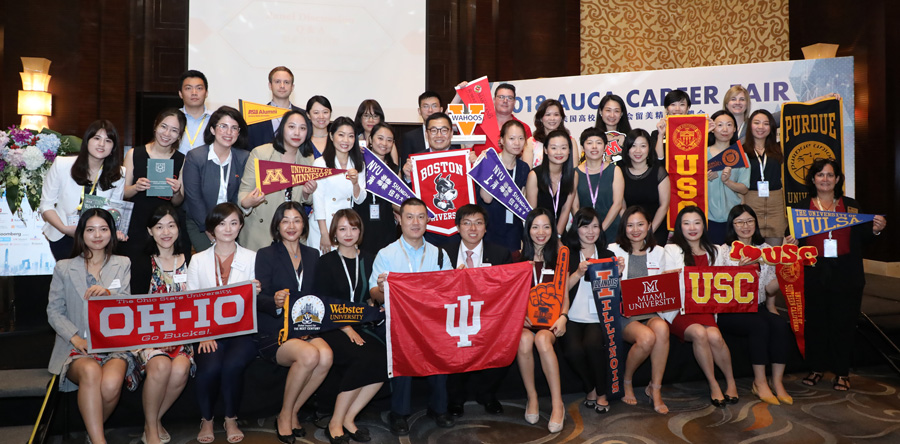 American universities at AUCA included Arizona State University, Boston University, Fordham University, Indiana University, Miami University, New York University, Purdue University, The Ohio State University, The University of Tulsa, University of Illinois at Urbana-Champaign, University of Maryland, University of Minnesota, University of Southern California, University of Virginia, Washington University in St. Louis, and Webster University.
Attending Companies
AUCA volunteer staff, including all the Webster China staff, worked together to assure there were 160 companies represented at the three fair locations. Companies came from various industries, including finance, consulting, technology, pharmaceuticals, e-commerce, consumer goods, and education.
Brand name companies included Bloomberg, IBM, JP Morgan, Unilever, and top Chinese firms like Alibaba, Baidu, Huawei, JD and Tencent.
AUCA University Members
Arizona State University
Boston University
Fordham University
Indiana University
Miami University
New York University
Purdue University
The Ohio State University
University of Tulsa
University of Illinois at Urbana-Champaign
University of Maryland
University of Minnesota
University of Southern California
University of Virginia
Washington University in St. Louis
Webster University
About American Universities China Association
AUCA is made up of U.S. universities who have physical programs or offices in China. These administrators and staff share information about operations in China. In addition to conferences and meetings, the group meets and exchanges questions and answers on the active China social network WeChat.
AUCU promotes best practices, advice, and furthers the reputation of the universities they represent. The organization was founded in 2014.