Webster China Joint MBA D.C. Study Tour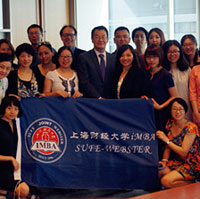 The Washington Study Tour from July 26 to July 31, 2015 was an opportunity for students, alums and staff in Webster China's Joint MBA programs to focus on business and economic issues vital to China, the U.S. and the rest of the world while connecting with leaders from finance, economic policy and other industries throughout the national capital region.
Months before this group of MBA students from Webster's SUFE and UESTC joint programs took off for the U.S., they examined the issues making the U.S. more economically attractive, and at the same time, considered important issues in China that might be compared to U.S. experiences.
Among the visits on the tour:
An opening day with speakers from the I

nternational Monetary Fund (IMF) and

World Bank Group

Lawrence Yun, nationally known economist who focuses on the U.S. real estate market, h

osted by the National Association of Realtors (NAR)

Engineer Brad Clark of

NAR, who showed the group NAR's LEED-platinum certified Washington headquarters
An afternoon with Washington Beltway Consultants, organized by Sean Coleman, director of Webster's National Capital Region campus locations. Coleman

assembled a full panel of expert speakers on real estate, investment instruments and valuation.

A lecture at George Washington University by Neil George, financial analyst and an alumnus of Webster through its European campuses
Speakers from the

U.S. Department of Agriculture (USDA) on how its organic program operates
See more photos and read more details from the trip in this story at Webster China.