Webster Hosts Expert on U.S.-China Economic Relations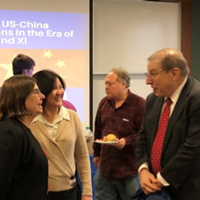 Are the United States and China headed for a trade war? This is the question Hank Levine tackled on the evening of Tuesday, April 10, in front of an audience of over 80 Webster University students, faculty, and community members. With the recent announcements of tariff hikes by both countries, the timing of this talk could not have been more apt.
Levine was invited to speak by the Confucius Institute at Webster University as part of the "2nd Contemporary China Speaker Series." Levine has decades of experience in the field of U.S.-China relations, having held prominent roles such as Deputy Assistant Secretary of Commerce for Asia, U.S. Consul General in Shanghai, and Deputy Director for Economic Affairs in the State Department's Office of Chinese Affairs. He currently works as a Senior Advisor at Albright Stonebridge Group, where he helps businesses enter the Chinese market.
Allan MacNeill, professor in History, Politics and International Relations in Webster University's College of Arts & Sciences, served as host for the event, introducing Levine and facilitating audience questions during the question and answer session that followed Levine's main talk.

Levine delivered a clearly reasoned and highly informative talk on the current nature of the U.S.-China economic relationship. Before focusing on the potential trade war, he took care to place the issue in the broader context of the U.S.-China relationship. Levine said that regarding the wide variety of issues Americans may be concerned with—the environment, the proliferation of nuclear technology, food and product safety, global health, regional disputes such as those involving North Korea, counterterrorism, and transnational crime to name a few—no single country is as important as China.
While previous administrations, he argued, have attempted to balance all of these issues, pursuing areas of mutual agreement even as they address their differences, the current administration has mainly adopted the less stable approach of focusing primarily on two topics: North Korea and trade.
Levine went on to address both the beneficial and problematic aspects of the United States' economic relationship with China, emphasizing the complexity of the issues that lie behind the more salient attitudes. He analyzed the current administration's approach to the issue, and ended by giving his own recommendations for how the United States can most successfully pursue its agenda with China.
Following Levine's talk, audience members were given the opportunity to ask follow up questions, both about trade and other issues relating to the U.S.-China relationship. The event culminated with a reception where members of the audience had the opportunity to interact personally with Levine.