2017 Messing Award Summer Discoveries: Meandering Along China's Silk Road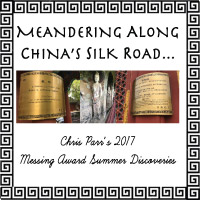 Chris Parr, professor in the Department of Religious Studies in the College of Arts & Sciences, will present, "Meandering along China's Silk Road" based on his summer discoveries as recipient of the 2017 Wilma and Roswell Messing Jr. Faculty Award.
Parr spent two weeks over the summer in China focusing on China's renowned Silk Road. Join him for this brown-bag lunch talk on Monday, Dec. 4, 12-1:30 p.m. in the University Center Presentation Room.
Parr's trip further helped his research on Buddhism and its cultural contexts and enriched his understanding of China and the many topics he teaches. Read more here.
Messing Faculty Award
Since 1977, the Wilma and Roswell Messing Jr. Faculty Award has been presented to a full-time faculty member for a summer activity that strengthens his or her curriculum and that improves the teaching/learning experience.
The award provides the resources for a Webster University faculty member to complete international research projects and infuse the results of their studies into their curricula and teaching. Faculty proposals are peer-reviewed by an appointed University committee.