'Revolutionary Bodies: Eighty Years of Chinese Concert Dance' at the Diversity and Inclusion Conference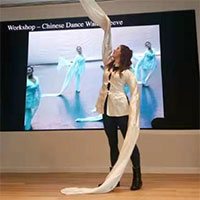 At the Webster Diversity and Inclusion Conference, Emily Wilcox, assistant professor of Modern Chinese Studies of the University of Michigan, Ann Arbor, spoke to the Webster community about her research on Chinese dance. This discipline has, until now, received little attention in academia in the English-speaking world in spite of a large and growing community of amateur practitioners around America and the world.
Wilcox was invited to speak at the conference by the Confucius Institute and Beckah Reed, professor of Dance.
Discussing the discipline of Chinese dance, Wilcox described its surprisingly global and recent origins in the 1940s. Wilcox showed clips highlighting diversity within the discipline to show the emphasis that is placed on the distinct styles of the many ethnic minority groups in China, noting that leading roles played by women and the significance of transnational and intercultural encounters.
Wilcox argued that three elements established in the early years of the genre's development continue to define Chinese dance today: kinesthetic nationalism, ethnic and spatial inclusivity. Wilcox drew on her own research, Revolutionary Bodies: Chinese Dance and the Socialist Legacy. This is the first original English language primary source-based history of Chinese dance. The book can be viewed here.
In the final part of her presentation, Wilcox distributed "water sleeves," a Chinese dance costume with sleeves that extend far beyond the length of the dancer's arms to convey the depth of the dancer's emotional expression. She led dance students at Webster in an introductory practical session, teaching them to incorporate the mechanics of the sleeves into their dance. Students found this initially challenging, but enjoyable and rewarding as they quickly became more adept.
In the end, they performed a short choreographed dance and then continued to improvise, incorporating their own dance expertise into this novel art form.