Two Webster Choral Ensembles Hold Final Performances of the 2018-19 School Year May 4-5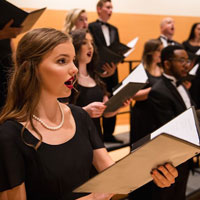 Two of Webster's choral ensembles will perform for the final time of the 2018-19 school year over the weekend of May 4-5. Both performances are free to attend.
The Chamber Singers will perform Saturday, May 4 at 3 p.m at the Siteman Cancer Center, 4921 Parkview Place near the Central West End in the Barnes Hospital complex. The concert features smaller groups of students singing music that was designed as trios and quartets, rather than larger choral works. Chamber Singers is led by Trent A. Patterson, director of Choral Studies.
Aurelia, Webster's treble-voice choir, performs Sunday, May 5 in the Edward Jones Commons of the East Academic Building on the Webster Groves campus. The concert begins at 7 p.m. Stuart Chapman Hill is the conductor of Aurelia.
"The run-up to finals is always a rush for us," says Jeffrey Carter, chair of the Department of Music. "We always seem to have a concert or two on this final weekend of the semester. Jazz Collective and Jazz Singers, Orchestra, Wind Ensemble — all are now finished for the year. We're delighted to wrap up the school year with these two special concerts in locations new to us."
Chamber Singers toured to Arkansas, Tennessee, and Missouri earlier this semester. Aurelia performed by juried invitation at the state music teachers conference.