Brewer Week Wraps Up with Concert Focused on Women Composers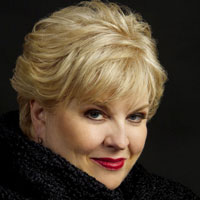 Acclaimed American soprano Christine Brewer finished her annual residency at Webster University on Friday. She was joined in a festive concert by more than a dozen students from the Department of Music.
For more than a decade, Brewer has been Visiting Professor of Music in the Leigh Gerdine College of Fine Arts. She conducts master classes each Fall semester, and then spends a week each Spring semester teaching voice lessons, giving talks, coaching students, and joining students for a themed concert.
Martha J. Hart, Director of Vocal Studies, notes that "Christine is such a genuine person and so honest in her approach to singing. She emphasizes the importance of the text as a way of freeing the voice to be a beautiful and communicative instrument. This is clearly demonstrated in her own singing which serves as a powerful model for our students."
Brewer Week always focuses on a narrow range of literature. This year's theme was songs by women composers, with the final concert featuring music written over the last 200 hundred years, and up to present day, including music of the late Saint Louis composer Carolee Coombs-Stacy.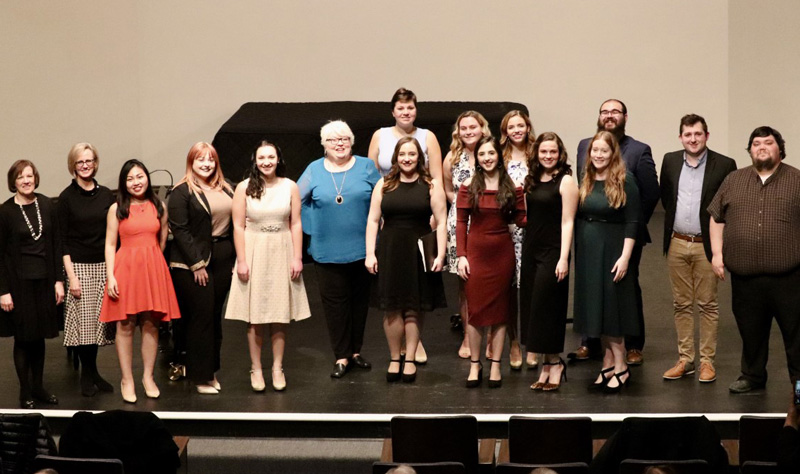 "The students adore Chris," says Jeffrey Carter, Chair of the Department of Music. "This annual week-long visit is a highlight of the year for the voice students. They delight in working with her, and she is generous in teaching and with praise of the vocal performance program at Webster. That she is here regularly, and sees these students growing in the long arc, only adds to the happiness of Brewer Week."
Students in the final concert program represented several degree programs in the Department of Music, including the Bachelor of Arts in Music, the Bachelor of Music Education, the Bachelor of Music in Performance, and the Master of Music in Performance. Faculty collaborative pianists Nancy Mayo and Donna Vince were the accompanists for the concert.
About Christine Brewer
Grammy Award-winning American soprano Christine Brewer is a resident of Lebanon, Illinois. Her appearances in opera, concert, and recital are marked by her own unique timbre, at once warm and brilliant, combined with a vibrant personality and emotional honesty reminiscent of the great sopranos of the past. Named one of the top 20 sopranos of all time (BBC Music), her range, golden tone, boundless power, and control make her a favorite of the stage and a highly sought-after recording artist. A philanthropist and humanitarian, Brewer is increasingly turning to where she began her career, in teaching and guiding young singers in finding their voice.