Community Music School Named Top Program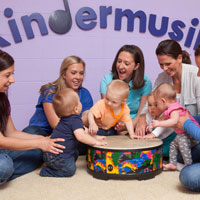 The Community Music School (CMS) of Webster University Kindermusik program has been named a Top Program by Kindermusik International, the world's leading publisher of music and movement programs.
The Kindermusik Top Program Conductor Circle award recognizes excellence in building an expansive program and reaching many families in the community with music and early childhood education.
"Kindermusik programs have a mission: helping children become better learners and helping parents understand how to help them reach their highest potential," said Scott Kinsey, CEO at Kindermusik International.
CMS joins the elite company of 200 Top Programs worldwide identified as the top Educators who teach Kindermusik's music and movement curricula. CMS added the Kindermusik program to their program offerings in 1993. Today CMS reaches over 250 families through the Kindermuisik program each year.
This top performing program is coordinated by Maureen Bolain who is joined by teachers Nancy Love, Jeanne Magee, Malinda Thompson and Karen Zelle. Classes are offered in four different locations around the St. Louis area including Webster Methodist Church (Webster Groves), JCC Marilyn Fox Building (Chesterfield), The Lodge Des Peres (Des Peres) and Episcopal Church of the Holy Communion (University City).
Kindermusik International makes available blog posts, videos, research information and free music to spread the word about the importance of early childhood music education. CMS continues to do what it does best - invest in high-quality teachers motivated to spread the love of music to their students.
Carol Commerford, director of the CMS says, "This award is a lovely celebration of the excellence of our Kindermusik educators. We are so proud to be a part of the Kindermusik International community and, most importantly, to play a role in nurturing young minds and spirits.
About Kindermusik International
Kindermusik International is the world's leading publisher of music and movement curricula for parents and their children, newborn to 7 years old. More than 5,000 licensed educators use the Kindermusik curricula in over 70 countries, reaching more than 2 million families.
The award-winning books, CDs, games, and instruments are based on 40 years of experience creating curricula based on new and proven research in child development, designed to nurture skills in the whole child: cognitive, physical, social, emotional, language and musical.

For more information about the CMS program, contact Carol Commerford, 314-968-5939.
About Community Music School of Webster University
Founded in 1925, the Community Music School of Webster University offers outstanding music education and performance opportunities to students of all ages and abilities and serves the entire St. Louis metropolitan region.
The Community Music School (CMS) is accredited by the National Association of Schools of Music and is a certified member of the National Guild of Community Schools of the Arts. The CMS receives assistance from the Arts and Education Council of Greater St. Louis. The Preparatory Program is supported in part by an award from the National Endowment for the Arts.