CMS Students Place at 2019 Chicago Music Festival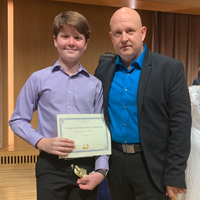 On Aug. 2, Ilya Rice, and Alex Chen, performed at the 2019 Chicago International Music Festival Winners Concert at the Wheaton College Recital Hall.
The competition is sponsored by the International Institute of Piano Artistry and co-organized by Wheaton College. The International Institute of Piano Artistry seeks to enhance the artistic depth, technical skill, and overall aesthetic quality of performing and teaching. They aim to find and cultivate a new generation of music talents in the world and to promote the development of classical music and cultural exchange.
Each year, many young musicians from all over the world gather in Chicago in hopes to launch their successful careers.
Ilya Rice won second place in the Young Artist I Competition (12-14 years). Alex Chen won the Young Artist I division in the 2018 competition. This year he competed in the Young Artist II level (15-17 years) where he won second place --at just the age of 14.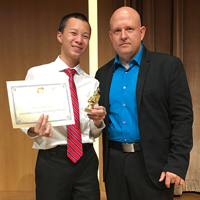 Congratulations to both of these young pianists on this outstanding accomplishment.
Read more about the Festival Winners concert at the Community Music School blog.