CMS: Summer New Student Registration June 8-13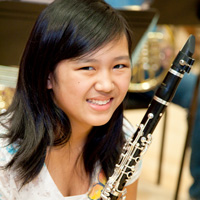 The Community Music School (CMS) of Webster University offers one-on-one instruction on all instruments of the band and orchestra, piano, guitar, harp and voice at three St. Louis locations. Students of all ages and ability levels can be matched with one of the 100 master music teachers during New Student Registration for the Summer semester June 8-13.
The six-week summer session is a great time to begin music lessons, whether you're a beginner, a school music student wanting to stay in playing shape, or an adult returning to music.
Individual Lessons
Interested in learning a new instrument or improving your skills? The summer semester for Individual Lessons runs from June 20 through Aug. 1.
The Community Music School offers individual music instruction for all ages, levels, and abilities. Students meet for one-on-one weekly sessions with CMS instructors at one of our locations in Chesterfield, Webster Groves or University City. Music lessons are available on all instruments of the band and orchestra, piano, guitar, harp, and voice.
Youngest beginning ages:
Piano: 6 years
Guitar: 6 years
Traditional Strings: 7-8 years
Woodwinds & brass: 9-10 years
Percussion: 9-10 years
Voice: 12-13 years
Harp: 12 years
Composition: 12 years (must have basic note-reading skills)
Theory: Reading age
Registration
By registering students in person, our staff is able to consider a student's background, personality, personal motivation and goals, as well as specific needs or requirements, in order to place the student with the most appropriate instructor. While student attendance at registration is optional, students are welcome to attend with a parent and see the facilities. Auditions are not required. Students may register after the walk-in dates by calling their preferred lesson location, but lesson times may be limited.

Click here to sign up for a registration date.

Camps and classes are offered also, visit webster.edu/cms for details.