CMS Hosts Walk-in Registration Sessions for New Students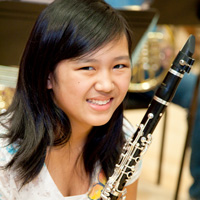 The Community Music School (CMS) of Webster University will host walk-in sessions for new students Aug. 4-11 to register for the Fall 2018 semester of individual lessons. CMS offers one-on-one instruction on all instruments of the band and orchestra, piano, guitar, harp, and voice, at convenient locations in Chesterfield, Webster Groves and University City. Students of all ages and abilities can be matched with one of over 90 master artist/educators.
By registering students in person, CMS staff is able to consider a student's background, personality, personal motivation and goals, as well as specific needs or requirements, in order to place the student with the most appropriate instructor.
While student attendance at registration is optional, students are welcome to attend with a parent and see the facilities. Auditions are not required. Students may register after the walk-in session dates by calling their preferred lesson location, but lesson times may be limited.
For Fall 2018 semester registration days, times and locations, visit webster.edu/cms or call 314-968-5939. Some financial assistance is available.
Parents of babies, toddlers, and young children (birth-6 years) looking for early childhood music classes may download a registration form and learn more about Kindermusik and Music for Little Mozarts (keyboard classes) at webster.edu/kindermusik which is now enrolling for Fall classes.
Those seeking Suzuki instruction should contact CMS at (314) 968-5939 to add their names to the inquiry list.