Webster Student Helps with COVID-19 Testing in the Community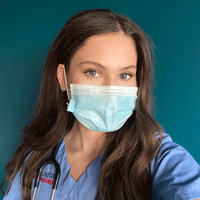 ST. LOUIS - Even as a young child, Lauren Coleman's held a deep fascination with medicine. "My favorite subject in school growing up was always science. I would watch tv shows like 'Life in the ER' and other shows about medical mysteries after school," she said. Now she's a senior Biological Sciences student at Webster University and is emphasizing health and medicine in her studies. After graduation, she hopes to attend medical school.
To give her goals an additional boost, Coleman currently works at a Total Access Urgent Care clinic where she administers COVID tests.
Coleman has been at Total Access for a little over a year now and said that her motivations have never changed. "I have always been driven by my interest in medicine and how the human body functions," she said. "But more importantly, my motivation has always been to help people on their worst days."
Lately, there have been many difficult days, due to the increase in coronavirus infections in the region. She said that it's not unusual for the clinic to run out of rapid tests on a daily basis.
"There is a much greater demand for the rapid tests," she explained. "After we have exhausted our supply of rapid tests, we still offer the patient a test that takes 2-4 days for results to return."
She said patients are only turned away when the wait list grows beyond their capacity to see everyone waiting for a test. "We will stop accepting patients who only want COVID-19 testing but will continue to accept patients seeking treatment for symptoms or other complaints."
The number of people getting tested now is much greater than it was before because there are less restrictions on who can be tested now, she said. "At Total Access Urgent Care, we don't require appointments, so anyone can walk in and receive a COVID-19 test, regardless of if they have symptoms or have been in contact with someone who has been experiencing symptoms."
However, Coleman cautioned that even though people don't have to have symptoms to get tested, it is still best to get tested when experiencing symptoms, especially symptoms that may require hospitalization. "The test is most accurate when the patient is currently experiencing symptoms. It is possible for someone to be tested too early during an infection and receive a false negative," she said. "It is also very important to have all symptoms evaluated thoroughly as there are many other possible causes for symptoms, not just COVID."
According to Coleman, there are many reasons people choose to get tested. Some people come in with symptoms not knowing what is making them ill, some come in because they are concerned about exposing others to the virus if they have it, and some ask for a test just out of curiosity.
There also are people who are not getting tested at all. "People in areas impacted by high poverty have limited access to healthcare and for that reason may have more underlying health conditions on average due to not receiving medical care as frequently," she said. "These conditions and many other factors contribute to putting these groups of people at an increased risk of contracting COVID-19."
What many of them do not know is that the tests themselves are being paid for by the CARES Act. At Total Access, the cost of all COVID-19 testing is submitted to the CARES Act, therefore, all patients, whether they are insured or not, do not owe anything for testing that day, Coleman said. But she added that there is a basic $99 fee to be seen by a provider, regardless of what the illness is, and that may also be a barrier to those from underserved communities.
Other factors also play into why people won't get tested, such as those who have jobs that won't give people time off to be tested or take steps to limit their exposure to the public. But Coleman also said that the cost of medical care shouldn't be a deterring factor. "At Total Access Urgent Care, we have a great self-pay program and try to make healthcare affordable and accessible to all."
Working in the clinic not only exposes her to the challenges the community faces during a pandemic, it also is giving her an opportunity to see the latest ground-breaking ideas in action. Some people are getting tested, for example, to see if they had COVID-19 and already recovered. "The idea is that if you have had COVID-19 and recovered then you would have antibodies to the virus," Coleman said. "These antibodies would be found in the plasma of the blood and are responsible for attacking the virus. This antibody-rich plasma is currently being assessed as a treatment for COVID-19."
Being on the frontlines of the pandemic and having a hands-on experience in the field has ultimately increased her understanding of biology, as she has seen real-life applications to what she has learned in the classroom. "My professors at Webster provided me with the knowledge and confidence to pursue a job in the medical field," Coleman said, "and the study skills I learned helped me through the pre-hire testing process to become a certified medical technician at Total Access."
She continued, "My mentor at Webster, Dr. Stephanie Schroeder, taught me many lab skills that I use every day at the urgent care, but most importantly taught me how to be independent and carry out these techniques on my own."