Registration for 2018 Global Citizenship Collaboratory Now Open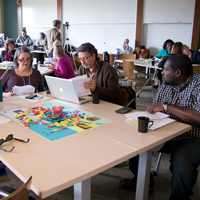 Registration for the eighth annual Global Citizenship Collaboratory on May 21-22 is now open. Faculty, students and academic partners are invited to visit the Collaboratory website and to register now.
The annual Collaboratory provides a space for the Webster community to share research, collaborate across disciplines, strengthen assessment practices, and explore new directions related to teaching and learning.
This year's Collaboratory theme, "Making Every Course Excellent: Developing Skills to Support Lifelong Success" invites the Webster community to consider the intersections between skills instruction, engaging technologies, student motivation, and continuous improvement.
Attendees will have the opportunity to participate in sessions such as:
Yes, You Can Integrate Critical Thinking Skills into Your Course Content!
Planning Pays Off: Components of an Effective Assessment Plan
What's Hard About Teaching the Soft Skills: The Case of Intercultural Competence
HLC Criteria and Strengthening Webster: What's Next?
Strategies for Supporting Student Writing in the GCP
Student Motivation and Equity: How Do We Both Challenge and Support Our Students?
Free Resources to Teach GCP Skills and Content
How to Design for Creativity in Learning (and Why Now is the Time to Do It)
Teaching Climate Change Policy with a Little Number Crunching
Keystone Vantage: Student Skills Development
Critical Thinking in Today's Media Landscape
Skills for Lifelong Success: Graduating Students' Perspectives (Student Panel)
Supporting Course Excellence: Developments in Resources for Learning and Engagement
How to Calm Students' Fears of Public Speaking
Hands-on activities with assessment data
Click here to register for the Global Citizenship Collaboratory.