2019 Commencements begin for Webster's 100th Class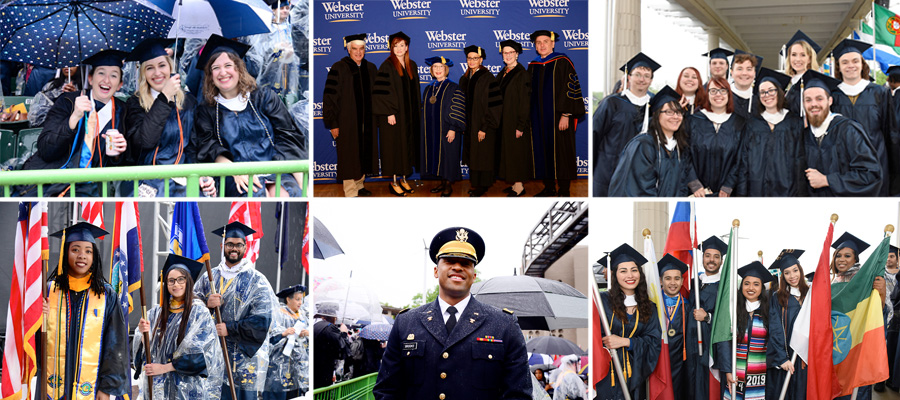 Webster University campuses have begun celebrating the 100th graduating class, with commencement ceremonies across the network taking place last weekend in locations like Bangkok, Geneva, Leiden and St. Louis.
Overall, the worldwide Class of 2019 includes 5,000 graduates, ranging in age from 19 to 72, and representing 101 countries across the globe. Other facts about them:
The oldest graduate is 72 completed his fourth MA with Webster, online, and is already working on his fifth.
The youngest graduate is 19, completing her BS in Business Administration at the Geneva campus.
U.S. graduates represented 44 states plus the District of Columbia.
45 graduates are currently stationed overseas with the U.S. military.
Among the 1,000 graduates attending the 100th ceremony in St. Louis were 83 who traveled from extended campuses, including 27 from China.
Academic Honors: 153 undergraduates received University Academic Honors, with seven graduating with International Distinction. Among graduate students, 323 earned Graduate Academic Honors.
Among the Class of 2019 are 32 Webster faculty or staff members, and 26 children or spouses of Webster employees.
In St. Louis, President Elizabeth (Beth) J. Stroble recalled Webster's first graduating class in 1919 -- which consisted of two students. They began a network of alumni that now numbers more than 200,000, including alumna Katy Sullivan '02, who was the commencement speaker and one of four alumni receiving honorary degrees to commemorate the 100th graduating class in Webster's history. Col. Sidney (Sid) Gutierrez (U.S. Air Force, ret.) received the honorary Doctor of Science, Brenda Newberry received the honorary Doctorate of Business Administration, Elizabeth Robb received the honorary Doctorate of Laws, and Sullivan received the Doctor of Humane Letters.

In Geneva, which also held its ceremony on May 11, 93 new graduates representing 47 countries celebrated at a ceremony before the traditional Garden Party held on campus for the University's newest alumni, family and friends.
Geneva is Webster's first international campus and celebrated its 40th anniversary this year.