Snapshots: Charleston Commencement 2017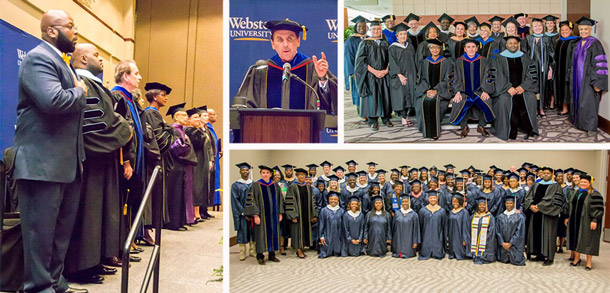 Provost, senior vice president and chief operating officer Julian Schuster was the commencement speaker for ceremonies held May 25 at Webster University's Charleston, South Carolina, campus location.
The celebrating graduates are part of a worldwide Class of 2017 that numbers 6,058 graduates at Webster campuses around the globe, joining a Webster University alumni network that is now more than 192,000 strong.
The graduates celebrating in Charleston included a married couple retired from the military, an active duty captain who was deployed in Kuwait during his studies and traveled to the Charleston ceremony from Fort Meade, and many grads who pursued their degrees to aid transition to new careers responding to the local economy.
Webster Commencement around the World
With campuses around the world, local graduation ceremonies continue throughout the summer and into the fall depending on local schedules.
[See: 2017 Webster University Commencement Ceremonies around the World]
The largest Webster University commencement ceremony each year is the one in St. Louis, where Webster was founded in 1915. More than 1,000 graduates turned out for the 98th annual ceremony on May 13 at The Muny in Forest Park. The ceremony annually attract grads and families from across the network, including 120 graduates who were there Saturday from campuses outside the St. Louis area.
This year's graduating class hails from 125 different countries. In the U.S. they represent 48 states plus the District of Columbia and Puerto Rico. Among the graduating class are 63 currently stationed overseas with the military. Also, 36 Webster University faculty or staff members and 33 children of faculty or staff members completed their degrees.