Florida Campuses Celebrate 2018 Commencement in Orlando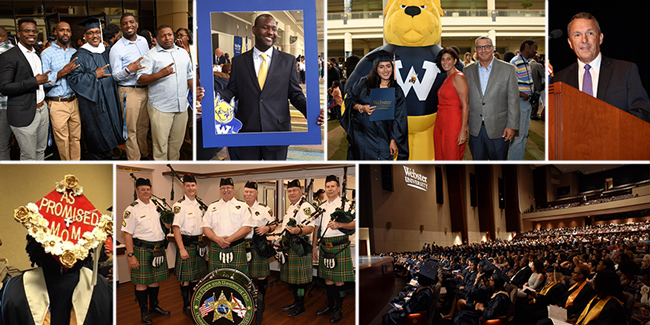 Commencement season is underway, and Webster University's campus locations in Florida have this tradition off to a celebratory start with a celebration for graduates in Orlando on April 21 in the Linda Chapin Theater at Orlando's Orange County Convention Center.
Glenton Gizean, president and CEO of the Central Florida Urban League, delivered the keynote address. Webster University Board of Trustees member Brig. Gen. Scott Wuesthoff (USAF, ret.) welcomed graduates. Webster University Associate Vice President Donavan Outten conferred degrees.
Webster University alumnus Alvin Bell, a 2006 MA graduate from the Orlando campus, performed the national anthem. The Pipes & Drums of the Orange County Sheriff Department led the processional.
All Webster campus locations in Florida participated at this joint ceremony, including Jacksonville and Jacksonville Naval Station, Lakeland, Melbourne, Merritt Island, Ocala, Orlando and St. Petersburg.
Commencement 2018 around the World
The graduates in Florida are part of Webster University's Class of 2018 worldwide graduating class of 5,590, representing 112 countries and 48 U.S. states plus the District of Columbia, Guam and Puerto Rico. Of these graduates, 44 are currently stationed overseas with the U.S. military.
Webster University's 99th annual commencement ceremony, the largest of the ceremonies held throughout the network, will take place Saturday, May 12, at The Muny in Forest Park, St. Louis. Urban League of Metropolitan St. Louis president and CEO Michael McMillan will be commencement speaker at that ceremony.