2019 Outstanding Alumni Award Winners
The Outstanding Alumni Award recipients from each Webster University college and school were honored at the Commencement Dinner on Friday, May 10, and invited to address graduates from their respective colleges and schools at the 100th Commencement ceremony Saturday, May 11, at The Muny in Forest Park.
College of Arts & Sciences: Jane Ellen Ibur '72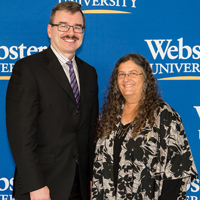 The College of Arts & Sciences Outstanding Alumni recipient for 2019 is Jane Ellen Ibur, who earned her Bachelor of Arts in English from Webster in 1972.
Ibur is the current Poet Laureate for the City of St. Louis. An award-winning poet and arts educator whose work has appeared in literary journals and anthologies since her time at Webster, she has brought the experience of poetry and creative writing to people in every imaginable setting, including veterans' facilities, jails and homeless shelters.
She co-founded the St. Louis Regional Arts Commission's Community Arts Training (CAT) Institute, where she serves as lead faculty. Jane has garnered much recognition as an arts educator, including the Outstanding Arts Educator award in 2008, the St. Louis Warrior Poet Council award in 2012, and Webster University's Loretto Award in 2013.
Business & Technology: Jun Fabella (MBA '94), Michael Pruett (MBA '94)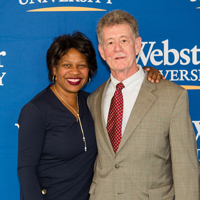 The George Herbert Walker School of Business & Technology selected two Outstanding Alumni recipients: Jun Fabella, executive vice president of DYNALABS new venture, and Michael Pruett, co-CEO of DYNALABS, both of whom earned their MBAs at Webster in 1994.
In 2003, while drafting a business plan for a pharmaceutical lab, Pruett identified the need for a tailored laboratory information management system. He immediately thought of his MBA classmate, Jun Fabella, as the person who could help. Over the next six months, they surveyed the marketplace and fine-tuned the business plan. In 2004, DYNALABS began official operations.
Today, 15 years later, DYNALABS operates as a pharmaceutical testing laboratory with annual revenues of more than $13 million. The private company has been recognized not only as one of the fastest-growing companies in St. Louis, but also as one of the fastest growing companies in the U.S.
Fine Arts: David Weiss '75 and John Nickel '75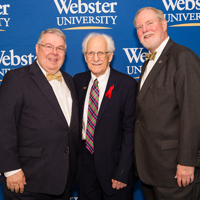 The Leigh Gerdine College of Fine Arts also selected two Outstanding Alumni recipients: David Weiss and John Nickel. Both earned Bachelor of Arts degrees in Theatre from Webster in 1975.
Following his time at Webster, Weiss went on to earn an MA in Arts Administration from the University of Michigan in 1976 before embarking on a successful theatre career. While in Pittsburgh, as managing director of The Lovelace Puppeteers, he decided to switch gears and enter the legal profession. Following law school, he built his own successful practice before joining Sandberg Phoenix & von Gontard P.C. as Counsel.
For Webster, Weiss has served as a member and president of the Alumni Association, the Board of the Daniel Webster Society, and as a member of the Board of Trustees. He is a member of the Volunteer Attorneys and Accountants for the Arts, on the Board of Directors for the Arts and Education Council of St. Louis, The St. Louis County Parks Foundation and the Missouri Athletic Association Board of Governors in addition to a long list of organizations serving the Community. He is also a regular underwriter of the Productions of The Conservatory each season.
Upon graduation, Nickel began his career with Communico Productions, a division of Maritz, where he served as a Lighting Design and Producer for their live corporate events. In essence, it is the only job he has held as he "switched" from Maritz to Anheuser Busch as a producer for Busch Creative, a division created to support corporate meetings. He then joined with two colleagues to purchase and serves as president of Switch Marketing, which has evolved to be a nationally significant firm to support major corporate meetings and marketing strategies.
Nickel is active in the St. Louis community, serving on the board of directors of The Sheldon, Shakespeare Festival St. Louis, and Backstoppers, John serves as producer for the Arts and Education Council's St. Louis Arts Awards, national events such as the Anheuser-Busch Annual Meeting, and, most importantly, for the past 15 years, the Webster University Commencement. John and his wife, Christie, are strong supporters of The Conservatory and activities of the Leigh Gerdine College of Fine Arts.
Communications: Courtney Stewart (MA '05)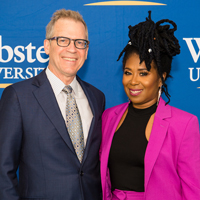 The School of Communications Outstanding Alumni recipient is Courtney Stewart, who earned her Master of Arts in Communications Management from Webster in 2005.
As the vice president of strategic communications at Missouri Foundation for Health, Stewart leads the communications department in its effort to partner with internal and external stakeholders to promote and articulate the work of the Foundation to diverse audiences. She develops and executes communications strategies and plans that highlight the Foundation as a resource, partner, convener, influencer, educator, and change agent for healthy living in the region.
Stewart has also served in various communications roles at the Boeing Company and Harris-Stowe State College, and is an active volunteer with the Saint Louis Zoo, co-chairing Jammin' at the Zoo and promoting various Zoo events.
Education: Deborah Leto '91, MAT '94, CEL '95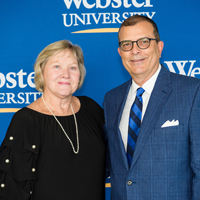 The School of Education Outstanding Alumni Award recipient is Deborah Leto, who holds multiple Webster degrees: a bachelor's degree in Education in 1991, MAT in 1994, and a Certificate in Educational Leadership in 1995. She also holds a doctorate degree from Maryville University.
Leto has worked for the St. Louis Board of Education since 1994, and has served as principal of the Mason School of Academic and Cultural Literacy since 2006.
Her accolades include the Pettus Award in 2009, recognized as one of four Elementary Principal of the Year awardees by St. Louis Public Schools; the St. Louis Symphony Orchestra Principal of the Year award in 2011; and the COCA Arts in Education Award in 2016.