New Team Captain Volunteers Needed for May Commencement Ceremony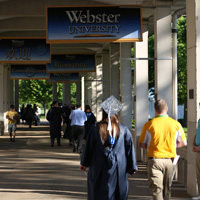 Every year we celebrate Webster graduates in May at the Commencement ceremony at the Muny. This event requires over 200 volunteer staff to make this a safe and pleasant experience for our graduates and their guests.
A core group of dedicated leaders have repeatedly served on the Commencement steering committee, working with their colleagues to consistently produce an event that showcases graduates and celebrates their accomplishments.
Leadership Opportunity
The University is working to develop a larger committee of leaders to share the leadership, responsibility and rewards of Commencement day. This shared leadership aligns with Webster's mission to serve our students and their needs--pooling resources, developing ideas and working as a team can accomplish great things.
This is an opportunity to step out of the box, apply your leadership skills in a new arena, collaborate with your Webster colleagues and contribute to a milestone in the lives of our students. Please contact Nancy Higgins at higgins@webster.edu for more information about becoming a Commencement team captain.