2017 Worldwide Commencement Ceremony Snapshots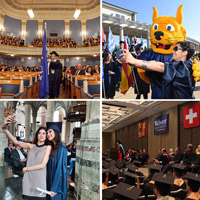 Commencement season is in high gear at Webster University, with several ceremonies at campuses around the world taking place last weekend, and more to come through the summer.
The largest ceremony each year is the one in St. Louis. On Saturday more than 1,000 graduates turned out for the 98th annual ceremony at The Muny in Forest Park. The ceremony annually attract grads and families from across the network, including 120 graduates who were there Saturday from campuses outside the St. Louis area.
Worldwide this year there are 6,058 graduates who add to a Webster University alumni network that is now more than 192,000 strong.
This year's graduating class hails from 125 different countries. In the U.S. they represent 48 states plus the District of Columbia and Puerto Rico. Among the graduating class are 63 currently stationed overseas with the military. Also, 36 Webster University faculty or staff members and 33 children of faculty or staff members completed their degrees.
Below is a sampling of photos with links for the scenes from several ceremonies celebrating this year's class. In many cases, more photos will be added soon.
St. Louis, USA
The ceremony in St. Louis was held Saturday, May 13, at The Muny in Forest Park. Webster Groves, where Webster was founded in 1915 and where its original campus still calls home, is just outside of the city.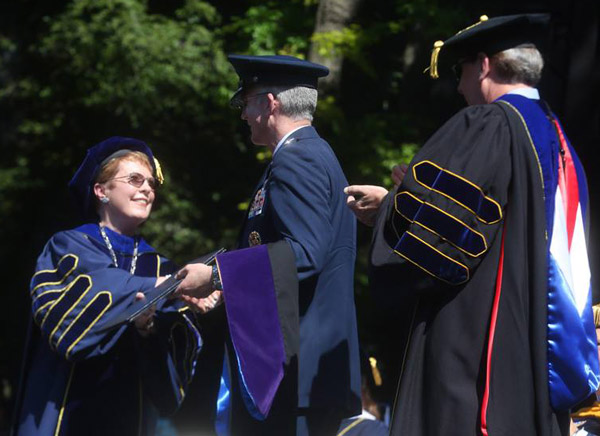 President Elizabeth (Beth) J. Stroble and Julian Schuster, Webster's provost, senior vice president and chief operating officer, delivered their addresses to graduates before commencement speaker Gen. Paul J. Selva, who as vice chairman of the Joint Chiefs of Staff is the second-highest ranking officer in the U.S. military.
Selva was previously commander of Air Mobility Command and commander of U.S. Transportation Command at Scott Air Force Base, which is home to one of Webster's many campus locations on military installations across the nation. Read Department of Defense coverage of Selva's address here.
See photos from the St. Louis ceremony in this album on Facebook. Look for more information and video of the ceremony soon.
News in Louisville: In addition to the members of the Class of 2017, Saturday was a special day for one member of the Class of 1988: Karla Ramser-Young was pregnant and kept from participating in the ceremony when she finished her master's three decades ago, but her son arranged for her to cross this item off her "bucket list" as she walked in Saturday's ceremonies. See coverage of her story from Louisville's WDRB TV station, with footage from Webster's Global Marketing & Communications.
Accra, Ghana

The campus in Accra, Ghana, celebrated its third annual ceremony. Daniel Fennell, Acting Deputy Ambassador of the U.S. Embassy in Ghana, delivered the commencement address.
Read more about the Ghana ceremony with additional photos in this news post.
Geneva, Switzerland

The ceremonies for the Geneva campus, which opened in 1978, were also held on Saturday, May 13, at the Intercontinental Hotel.
With 113 students graduating, representing 52 nationalities, the event celebrated the academic achievements of Webster's newest alumni with distinguished guests from Geneva's diplomatic community, family and friends.
See much more in this album on Webster Geneva's Facebook page. Read more here about the ceremony, with featured speaker Andre Schneider, CEO of Geneva Airport.
Webster Geneva traditionally features two student speakers from the graduating class. Read more about their remarks here.
Hua Hin, Thailand

Webster University Thailand held its ceremony on Saturday, May 13, at the Sheraton Hua Hin Resort & Spa. See photos in this WUT post on Facebook.
Leiden, the Netherlands

Ceremonies in the Netherlands took place at the Pieterskerk in Leiden, where Webster's campus opened in 1983. Check back soon on the Webster the Netherlands Facebook page for many more photos when available.
Vienna, Austria

The campus in Vienna, Austria, which opened in 1981, celebrated its 36th commencement ceremony on May 6 in Vienna's historic Konzerthaus.
See more photos in this post at Webster Vienna.
Webster Commencement around the World
Ceremonies for Central Florida campuses took place last month in Orlando. Across the network of Webster campuses around the world, local ceremonies will continue throughout the summer and into the fall depending on local schedules.