Call for Nominations: Honorary Degree Recipient and Webster University 102nd Commencement Speaker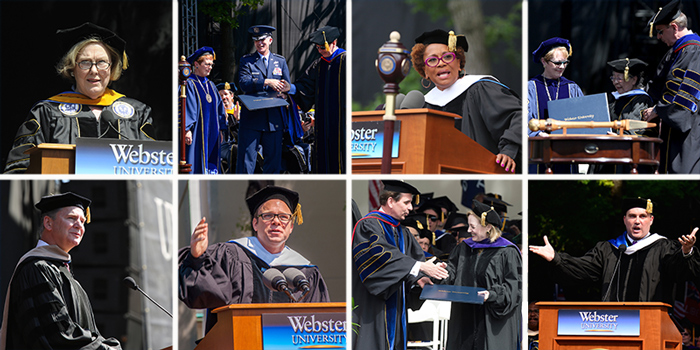 The Honorary Degree Committee is seeking nominations for the honorary degree recipient and commencement speaker for Webster University's 102nd commencement ceremony on Saturday, May 8, 2021.
This annual ceremony is the largest gathering of graduates and their families from Webster University campus locations throughout the world. Nominations must be submitted through the online form and will be accepted through Oct. 2, 2020.
An important part of commencement is the awarding of an honorary degree to a recipient who will be our commencement speaker. As in the past, we are seeking suggestions for this honor. Nominations will only be accepted through the online form.
The honorary doctorate degree recognizes academic accomplishments of individuals, including alumni, as well as those who may not have had any previous association with the University.
Nomination Areas
The Honorary Degree Committee seeks nominations of individuals who have excelled in one or more of the following areas:
Individuals whose achievements and actions are consonant with the mission, vision and values of Webster University.

Individuals who are distinguished by their professional, scholarly, intellectual or creative achievement in fields of interest at Webster University.
Humanitarian deeds and the degree to which the candidate's activities have exhibited substantial and sustained efforts and whose work has touched various lives.
Individuals who can connect with graduates and speak to them regarding issues that will impact them now and in the future.
Confidentiality is Crucial to the Nomination Process
Please note that all nominations must be confidential, without notice to the nominee, in order to protect privacy and respect the nominee. This applies until the process has concluded. Official notification of the University's wish to confer an honorary degree upon an individual is made by the President on behalf of the Honorary Degree Advisory Committee and the Board of Trustees.
Self-nominations will not be considered.
Submit your nomination(s) here.
Anyone Can Nominate the Speaker
Past recipients include former President George H. W. Bush, Simon Wiesenthal, Bob Costas, Patricia McKissack (MA, 1975), Lt. Col. Greg Gadson (MA, 2001), congresswoman and Speaker of the House Nancy Pelosi, U.S. Ambassador to Egypt Anne W. Patterson, two-time Tony award-winning Webster alum Norbert Leo Butz (BFA Theatre Arts, 1990), Hiroshima atomic bomb survivor Koko Tonimoto Kondo, St. Louis-born actress, singer, community activist, and Webster University alumna Jenifer Lewis (BA Theatre Arts, 1979), Jim Weddle, managing partner of Edward Jones Investments, and Gen. Paul Selva, 10th Vice Chairman of the Joint Chiefs of Staff and second highest ranking officer in the United States Military, Mr. Michael P. McMillan, president and CEO of the Urban League of Metropolitan St. Louis, Webster alumna Katy Sullivan (BFA Theatre Arts, 2002), award-winning television and stage actress, producer, and writer, as well as a four-time U.S. champion Paralympic runner; neuroscientist Vladimir Ivkovic (BA, Vienna, 1999), and Will D. Carpenter, the scientist, philanthropist, and contributor to the Nobel Prize-winning Organisation for the Prohibition of Chemical Weapons.