2020 Commencement Speaker, Honorary Degree Recipients Announced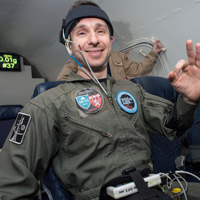 ST. LOUIS – Vladimir Ivkovic, an expert on the neurological effects of spaceflight and extreme environments on human health and performance, has been named the commencement speaker for Webster University's 101st Commencement to be held Saturday, May 9, 2020, at The Muny in Forest Park. Will D. Carpenter, the retired Monsanto scientist whose efforts were critical to the prohibition of chemical weapons, will also be celebrated at the ceremony with an honorary doctoral degree.
"We are delighted to honor two outstanding scientists who also have connections to Webster," said Chancellor Elizabeth (Beth) J. Stroble. "Webster University community members know Vladimir Ivkovic as an inspiring alumnus who also helped us unveil the Browning Hall, Interdisciplinary Science Building in 2017, and we know Will Carpenter as a compassionate mentor, master storyteller, and world-renowned researcher who continues to give back to the community."
"From making our society more humane on earth, to driving our aspirations to explore the unknown in outer space, Will and Vladimir's respective careers encompass the wide range of how science enriches humanity," said Webster University President Julian Z. Schuster. "Their contributions will serve as an inspiration to the Class of 2020, future students, and more than 200,000 Webster University alumni worldwide."
Ivkovic graduated from Webster's campus in Vienna, Austria, with a bachelor's in psychology in 1999. After Webster, he earned master's degrees in biology from the University of Zagreb, Croatia, and space studies from the International Space University, France, in 2005 and 2006, respectively. He then completed his PhD in neuroscience from the University of Houston in 2012.
Ivkovic's areas of expertise include human neurophysiology and behavior in extreme environments. His research focuses on applying wearable brain imaging and physiology monitoring for assessment of disorders elicited by exposure to such environments or activities—including spaceflight and firefighting—and development of countermeasures for their mitigation. Ivkovic translates new knowledge from these studies into preventive strategies and clinical treatments—for elite performers and the general patient population alike. On the one hand, these studies help NASA understand the effects of prolonged missions aboard the International Space Station on astronauts' health and performance. On the other, his studies with the Boston Fire Department help reduce the risks of occupational stress on firefighters' health and performance. By applying the translational research approach, Ivkovic aspires to help pave the way for human exploration missions to the Moon, Mars, and beyond, while protecting the health and safety of the first responders, and the general public on Earth.
He is currently the director of the Laboratory for Neuroimaging & Integrative Physiology within Neural Systems Group at the Department of Psychiatry at Massachusetts General Hospital and Harvard Medical School. He also teaches at Harvard University and Boston College in the areas of neuroscience and psychophysiology, as well as at Webster University in St. Louis, where he is teaching neuroscience this spring as an adjunct faculty member.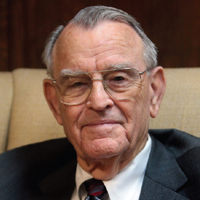 On May 9, Ivkovic will deliver the commencement address to graduates and receive the Honorary Doctorate of Science.
Will D. Carpenter will receive the Honorary Doctorate of Humanitarian Service at the ceremony. He is a scientist and philanthropist who, after earning a Ph.D. in plant physiology at Purdue University in 1958, began a 34-year career at Monsanto Company. While at Monsanto, Carpenter nurtured collaboration between academic and industrial scientists on two critical fronts: the development of advances in agricultural technology to combat world hunger, and the effort to eliminate chemical weapons. From 1978 to 2003, he was deeply involved in the efforts to obtain a worldwide chemical weapons treaty. He was the primary representative for the American Chemical Manufacturers Association during the successful negotiations that led to the signing and ratification of the Chemical Weapons Convention.
As part of this work, Carpenter testified numerous times before Congress and worked with chemical companies worldwide to help bring them on board with the terms of the treaty. Out of that convention, the Organisation for the Prohibition of Chemical Weapons (OPCW) was formed. The organization won the 2013 Nobel Peace Prize.
Carpenter is a supporter of Webster as a donor and an advisor whose expertise has informed major initiatives. He is a former member of the Webster University College of Arts & Sciences Advisory Board, where he lent insights and advice about science management and global sciences for the College. He also served on the advisory council for the Webster University Global Leadership Academy, which builds leadership capacity and connections among faculty and staff.
His impact in agricultural development, environmental policy, and the disarmament of chemical weaponry is chronicled in the book "will d. … a life in science," written by Thomas R. Lawrence and published in 2014 by Front Porch Press.
For the latest information, directions and guidance for graduates, visit the Commencement page at webster.edu/commencement.