Commencement Video: Students, Faculty Savoring the Moment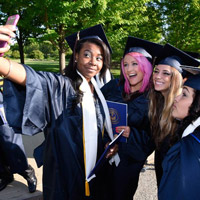 "Surreal." "Fabulous." "So, so happy." "This is the day I've been waiting for." "It's been a long time coming."
Those are the words of Webster students -- now alumni -- who walked at commencement last Saturday, which began a season of commencement ceremonies throughout Webster's global network of campuses. The largest was the 97th Annual Commencement at The Muny in Forest Park in St. Louis, where Webster was founded in 1915. Over 1,000 graduates attended that ceremony, including about 140 who earned their degree at campuses throughout the world or online.
These outstanding graduates, in the words of the faculty who celebrated with them: "They just blossom." "I'm just so proud of them." "You get to know these kids so well, and for so long, to say goodbye at least temporarily is always sad, but to celebrate next to them is exciting."
Hear those thoughts and more in this two-minute commencement video shot at the St. Louis ceremony. Share the video via this post on Facebook .
Overall, there are 6,423 graduates this year, bringing Webster's alumni network to over 180,000 around the world.
Visit the following campus Facebook albums for photos of last weekend's ceremonies in St. Louis, Geneva, Leiden, Vienna, Thailand and Orlando, Florida.