Common Reading Program Launched in First Year Seminars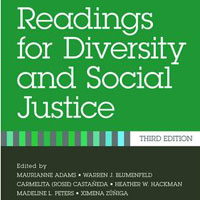 The Common Reading Program for 2015-16, referenced in President Beth Stroble's remarks at Fall Convocation, has been launched in the First Year Seminars.
Events in Ferguson last year sparked discussions on campus and across the country about many significant issues. Students, faculty, and staff all called for continued discussions of educational disparities, economic inequities, human rights, race relations, institutional racism, privilege, and a criminal justice system that disproportionately affects communities of color. Anchored in the First Year Seminars, this Common Reading Program is meant to support these important discussions.
We have a limited number of copies of this compilation of articles, essays, and book chapters, available for use beyond the First Year Seminars. If you would like to request copies to use in your class or with your group, please send the following information to Ted Hoef at hoeftl@webster.edu:
Name of class or group
How many students in class or group
How do you plan to use the Common Reading
We will review the requests and determine which requests can be accommodated.
Development of the Common Reading Program
The following group of faculty and academic partners developed the 2015-16 Common Reading Program, which will be supplemented by co-curricular programming throughout the year.
Bruce Umbaugh, professor of philosophy and director of the Global Citizenship Program
Robin Assner, associate professor of art and former director of first-year seminars
Carol Williams, associate professor of education and director of first-year seminars
Stephanie Mahfood, assistant professor of education and co-chair of the Global Citizenship Program committee
JB Kwon, assistant professor of anthropology and chair of the multicultural studies committee
Sheila Hwang, associate professor of English
Mike Jostedt, adjunct faculty in philosophy
Holly Hubenschmidt, head of library instruction, liaison, and reference services
Sarah Tetley, director of the first-year experience program
Colette Cummings, associate dean of students and director of MCISA
Nicole Roach, associate vice president for diversity, inclusion, and community engagement
Kim Kleinman, director of undergraduate academic advising
Ted Hoef, associate vice president for student affairs and dean of students
Introduction to the Common Reading Program
A group of faculty, student life professionals, and academic partners reviewed a great number of books, essays, and articles. This compilation was selected with the intention of raising awareness and encouraging discussions that will enhance our students' critical thinking skills and intercultural competence, helping us all to be more engaged global citizens. By exploring these readings, we hope to promote a society in which citizens challenge injustice and value diversity and inclusion.
Throughout the academic year, co-curricular events and activities will complement the Common Reading Program and provide opportunities for our campus community to come together to better understand these complex issues and continue these crucial conversations. These programs will include lectures, debates, panel discussions, films, exhibits, and facilitated dialogue. You can learn more about these programs from your First Year Seminar instructor, through involved.webster.edu, or through the Multicultural Center and International Student Affairs (MCISA) department.
The essays and articles in this compilation are not about the particulars of what happened in Ferguson last year. Instead, they address the origins of conditions that contributed to those events, and they look towards what can help us to shape a better future. These readings only begin to scratch the surface of these important issues. For those who would like to dive more deeply and learn more, Emerson Library librarians prepared a study guide (see: http://libguides.webster.edu/diversity/CommonReadings).
Contents Page
The purpose of the common reading program is to explore issues surrounding the Ferguson protests, including:
A criminal justice system that disproportionately affects communities of color
Educational disparities
Economic inequities
Race relations
Institutional racism
Privilege
Pages

How Did We Get Here

Du Bois, W.E.B. (1920). Of work and wealth. In Darkwater: Voices from within the veil (pp. 49-62). New York, NY: Harcourt, Brace and Howe.

1-13

Brodkin, K. (2012). How Jews became white folks. In P.S. Rothenberg (Ed.), White privilege: Essential readings on the other side of racism (4th ed, pp. 45-57). New York, NY: Worth Publishers. This book chapter will be found in the WorldClassroom for each First Year Seminar.

14

Coates, T. (June 2014). The case for reparations. The Atlantic, 313(5), 54-71. *

15-32

Jackson, K.T. (1980). Federal subsidy and the suburban dream: The first quarter-century of government intervention in the housing market. Records of the Columbia Historical Society, Washington, D.C., 50, 421-451. Link to online article

33

Wright, R. (1937). The ethics of living Jim Crow: An autobiographical sketch. In Uncle Tom's Children. New York: The Viking Press, 22-31. *

34-43

Rothstein, R. (Nov/Dec 2012). Government-sponsored segregation. American Prospect 23(8), 40-41. Link to online article from The American Prospect, October 11, 2012

44

Current

Alexander, M. (2010). The new Jim Crow: mass incarceration in the age of colorblindness. New York: New Press. (Introduction only) *

45-65

Berger, D. (Apr 2014). Is stop-and-frisk worth it? Atlantic 313(3), 54-65.

66-77

Where Do We Go >From Here

Oliver, M.L. & Shapiro, T.M. (2006). Getting along: Renewing America's commitment to racial justice. In M.L. Oliver & T.M. Shapiro Black wealth, white wealth: A new perspective on racial inequality. (pp. 175-199). New York: NY.

78-101

Adams, M., Blumenfeld, W. J., Castañeda, C., Hackman, H. W., Peters, M. L., & Zúñiga, X. (Eds.). (2013). Readings for diversity and social justice (Third ed.). New York, NY: Routledge Taylor & Francis Group. Three chapters: Waking Up White, The Personal is Political, and What Can We Do. *

102-117

*Used by permission